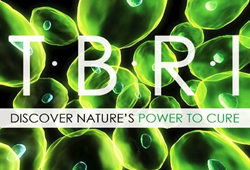 (PRWEB) July 10, 2014
Tampa Bay Research Institute (TBRI), a well-respected private, non-profit biomedical research institute, announced today that TBRI's most recent findings describing how the pine cone extract affects the immune system have been published in the journal, BMC Complementary and Alternative Medicine. The title of the published article is, "An orally active immune adjuvant prepared from cones of Pinus sylvestris, enhances the proliferative phase of a primary T cell response." The article can be reviewed and/or downloaded by clicking on the following link: http://www.biomedcentral.com/1472-6882/14/163.
"The publishing of this article is a major step forward for TBRI," noted Dr. W. Guy Bradley, TBRI's Senior Researcher and Principal Investigator. "Our research on how the pine cone extract affects the immune system continues to support our mission to unleash the power of the immune system to treat, cure and prevent cancer and debilitating diseases."
Dr. Akiko Tanaka, President and Co-Founder of TBRI, also commented that, "This important research funded by TBRI reinforces our commitment to leading-edge research to better understand how the human immune system works, and we are very excited about additional research we are currently doing in the immunotherapy area at the present time."
About Tampa Bay Research Institute (TBRI):
TBRI is dedicated to the study, cure and prevention of cancer and chronic infectious diseases. TBRI is similar to a number of other research institutes in the United States and abroad in that TBRI is interdisciplinary in nature and focused on biomedical research. However, TBRI is different because TBRI is dedicated to exploring unique biological pathways of the human immune system as they relate to several diseases, rather than
maintaining a focus on a single disease. In addition, TBRI provides valuable community health education that is backed by the latest biomedical research.
TBRI is an independent biomedical research institute. The Institute's independence allows for all biomedical research to be approached utilizing a neutral, science-based foundation. Since its formation in 1981, TBRI has strongly believed that this flexibility has enabled TBRI to rapidly focus resources on promising areas of scientific study rather than on other, non-scientific requirements sometimes imposed by outside or industry funding sources.
This independence also has allowed TBRI to serve all institutions and colleges that require assistance or cooperation, upon request. TBRI is not formally affiliated with any university or hospital; however, TBRI actively collaborates with universities and hospitals throughout the world as a scientific resource. Over the past 33 years, TBRI has conducted scientific collaborations with a number of prestigious institutions, including All Children's Hospital, Eckerd College, Emory University in Atlanta, the Howard Hughes Medical Institute at UCLA, Johns Hopkins University in Baltimore, the Kitasato Institute in Japan, the Moffitt Cancer Center at the University of South Florida (USF), North Carolina State University in Raleigh, St. Petersburg College (SPC), Suncoast Hospital in Largo, Tampa General Hospital, the University of Chicago, and the University of Montreal in Canada. In addition, TBRI has trained in excess of 100 undergraduate and graduate students from the U.S. and abroad, as well as a number of postdoctoral fellows.
United Capital Funding Corp. (http://www.ucfunding.com) is a Corporate Supporter and Partner of TBRI and is proud to provide this information on behalf of TBRI.