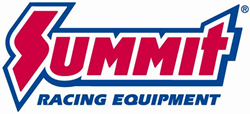 Tallmadge, OH (PRWEB) July 11, 2014
Summit Racing is providing parts and tech support to Discovery Channel's latest automotive show, "Fat 'n Furious: Rolling Thunder," to build incredible hot rods and muscle cars. Summit Racing has taken those parts and put together Fat 'N Furious Parts Combos to give enthusiasts solid, proven parts combinations for their own projects.
Airing Monday nights at 10 p.m. Eastern/9 p.m. Central, the show follows the exploits of Tommy Christmas, owner of Christmas Automotive, as he and his team of larger-than-life car junkies transform old vehicles into rolling masterpieces—masterpieces that can roast tires and belch fire, of course.
In Episode One, The Christmas Automotive guys built a 1964 Ford Galaxie tribute drag racer. They updated the driveline with a parts from B&M, McLeod, Quick Time, and more to handle more horsepower, added an MSD ignition system and Hooker headers, and reshod the car with Weld Racing wheels and Mickey Thompson tires.
The Fat 'N Furious team also treated a 1951 Mercury Lead Sled to a big dose of horsepower courtesy of a new nitrous oxide system, and turned a classic '69 Dodge Coronet into a Coronet R/T clone, complete with a legendary 426 Hemi engine.
Episode Two saw the Christmas Automotive team bring a vintage Chevy Chevelle muscle car into the 21st century by retrofitting its big block with a modern FAST EZ-EFI electronic fuel injection system, an American Powertrain TKO five-speed and installation kit, and a 3.55:1 ring and pinion gear set.
New episodes of Fat 'N Furious: Rolling Thunder will air Monday nights on the Discovery Channel. Summit Racing will be adding new Parts Combos after each episode airs.
See all the Fat 'n Furious Car Combos at SummitRacing.com.
Learn more about Fat 'n Furious on The Discovery Channel.
Summit Racing Equipment
http://www.SummitRacing.com
1-800-230-3030