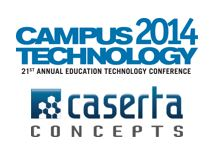 I believe that innovation is crucial to achieve continued success...
New York/Boston (PRWEB) July 15, 2014
Tuition hikes, student loan debt, online learning, budget cuts, competition for applications and enrollment and a tight job market all grab headlines and shape the higher education landscape. The challenge now for colleges and universities is how best to respond to these market realities.
The effective use of data is on everyone's mind and businesses and institutions are looking at the benefits information can bring. Many schools already use extensive IT solutions campus-wide for student registration, scheduling and billing, faculty and staffing management and other administrative functions. The next step is to pull the disparate pockets of data into one reliable source and apply advanced data analytics to benefit university operations.
At Campus Technology 2014 (CT 2014) Joe Caserta, President of the technology innovation and consulting firm Caserta Concepts discusses the challenges faced by colleges and universities to manage and analyze data for improved effectiveness and efficiency. He will share with conference attendees his view of the higher education technology landscape and talk about how today's competitive environment can benefit from the use of strategic, advanced data analytics.
"I believe that innovation is crucial to achieve continued success and applying the right technologies campus-wide improves overall university performance," said Joe Caserta. "In my session at CT 2014 I outline step-by-step instructions on how to build a world class university analytics platform, talk about best practices and share applied and proven techniques."
Campus Technology 2014 is being held July 28-31 at the Hynes Convention Center in Boston, MA.
To learn more about Caserta Concepts, please go to: http://www.casertaconcepts.com.
To learn more about CT 2014, please visit:
http://events.campustechnology.com/events/ct-summer-educational-technology-conference/home.aspx.
About Caserta Concepts:
Caserta Concepts is a New York-based technology innovation consulting services firm that specializes in big data analytics, data warehousing and business intelligence. With a worldwide network of professionals, Caserta Concepts collaborates with CIOs and their IT organizations to help them gain new business insights through a better understanding of their data. The company was founded by internationally recognized data warehouse authority and author, Joe Caserta, in 2001. For more information, please visit http://www.casertaconcepts.com Connect with Caserta Concepts on Twitter (@casertaconcepts) and LinkedIn at http://www.linkedin.com/company/caserta-concepts. You can also follow Joe Caserta on Twitter at @joe_caserta.
About Campus Technology 2014:
Campus Technology conferences are a part of 1105 Media, Inc., based in Chatsworth, CA, which provides integrated business-to-business information and media. 1105 Media's offerings focus on technology, products, policy, regulation and news delivered through an assortment of media, including print and digital magazines, journals and newsletters; seminars, conferences, executive summits and tradeshows; training and courseware; and web-based services.