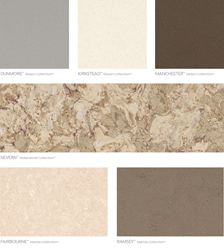 Le Sueur, MN (PRWEB) July 10, 2014
Cambria, the premier family-owned, American made natural stone producer in North America, today introduces the release of six new designs in its Marble™, Desert™ and Waterstone™ collections. Following this year's earlier release of the celebrated Galloway™ design from the Coastal Collection™, these fresh and modern additions bring Cambria's diverse and innovative palette to 109 designs.
"In our on-going customer commitment to provide the world's best stone surfaces, we're introducing six new designs now, 20 by the end of the year, bringing our industry-leading design palette to 109 designs and counting," said Peter Martin, Executive Vice President of Sales, Marketing and Business Partner Services at Cambria. "These offerings add depth to our array of solid designs in our Desert and Marble Collections and continue to expand our popular Waterstone Collection."
All Cambria designs are offered at the same price point across collections, making it easy to explore new design possibilities for any environment, style preference or application. From bold statements to sleek sophistication and contemporary elegance, the newest designs offer more options and versatility for designers and homeowners.
From the Marble Collection, Fairbourne™ and Ramsey™ are inspired by the classic look of marble and offer upscale elegance without the worry of high maintenance. Like all Desert Collection designs, Manchester™, Dunmore™ and Kirkstead™ provide beautiful monochrome foundations that portray subtle sophistication and adaptability. Nevern™ is part of Cambria's Waterstone Collection whose dynamic designs echo the tumultuous and ever-changing relationship between sand and rocky shores.
Cambria continues to develop and deliver new design standards for today – and tomorrow. Look for additional designs debuting throughout 2014. To view Cambria's newest offerings and the entire design palette, visit CambriaUSA.com.
About Cambria
Cambria is the family-owned, American made producer of natural quartz surfaces. As a stain resistant, nonporous natural stone surface, Cambria is harder, stronger, safer and easier to care for than other stone surfaces. Headquartered in Le Sueur, Minnesota, Cambria is sold through an exclusive North American network of premium, independent specialty retail and trade partners which can be identified at http://www.CambriaUSA.com.