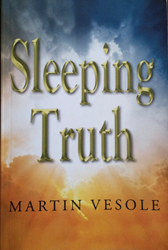 "…this is the time to look at a broader spiritual perspective..."
Delray Beach, Fla. (PRWEB) July 29, 2014
"When you have a product that's not selling, you either change the product or change your target audience. The latest Pew Research Center Study released in October 2013 as the first one 10 years earlier, continues to show that organized religion is losing its appeal across the board," emphatically shared Martin Vesole. The Jewish community in the U.S. is at greatest risk due to our small numbers to begin with.
"This is the purpose of my book, 'Sleeping Truth,' to bridge the gap not only between the Jews, but among Christians as well. Maybe this is the time to look at a broader more spiritual perspective and find new ways to come together, this is my hope," stated Vesole.
"Sleeping Truth begins with two young Arab boys in a cave many years ago, finding a lost urn that contained information that could shake the very foundation of religion as we know it today. Suppose we found out via an ancient scroll that a Roman conspiracy killed Jesus, that the Jews had nothing to do with it whatsoever, and that Jesus was neither the son of God nor the Messiah? How would that change centuries of misplaced discord?" asks Vesole.
Sleeping Truth offers an extensive debate about the Jewish, Christian, and scholarly points of view about life, the after-life, and meaning of Jesus, as well as a new philosophy about the nature of God. This will touch everyone as we're all spiritual beings first and foremost.
Martin Vesole is available for interviews and appearances.
For booking presentations, media appearances, interviews, and/or book signings, contact:
Deborah Lanore
Ultimate Noise Consulting
uncd3(at)yahoo(dot)com
502.802.2215
About Martin Vesole:
Martin Vesole is a 64-year-old attorney who attended Washington University in St. Louis, and graduated from the De Paul College of Law in Chicago. He lived in Israel for two years, attending the Hebrew University in Jerusalem and working on a kibbutz famous for manufacturing the Naot sandal line. Martin worked as a legal writer for Commerce Clearing House in Chicago, and also served as the President of Temple Menorah and remains on the Board of Directors presently. He's divorced with a stepdaughter and two grandchildren.
About the Shalomist Movement:
The mission of the Shalomist Movement is to open hearts and minds to broadening the Judaic doctrine to attract many who have left and revitalize it for all Jews. The root letters of Shalom mean "completeness" and "wholeness." Judaism needs to stretch to become more complete and whole by looking outside itself and being open to adopting ideas from the secular world and other religions that are compatible with Jewish thinking. While the primary focus of theShalomist Movement is on broadening Judaism, it also teaches that there is much we can learn from others, and that building bridges of commonality is the start to a greater spiritual evolution based on global unity versus historical division.
About Ultimate Noise Consulting:
Ultimate Noise Consulting is a 24-year, full-service marketing consulting firm specializing in branding, strategic planning, and ethnographic research. Inquiries directed to Deborah Lanore 502.802.2215.