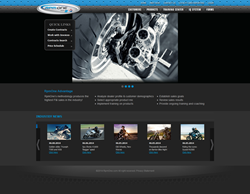 RpmOne's new website and IQ System promotes compliance and increases profitability for our dealers with a comprehensive and easy to use menu of all available F&I products for their customers.
(PRWEB) July 09, 2014
RpmOne, a leading U.S. provider of F&I (finance and insurance) products and dealer development services for the powersports industry, announces the release of their enhanced and modernized website, RpmOne.com. The site has been upgraded to better serve the needs of the more than 500 U.S. dealers currently offering their suite of products.
RpmOne's enhanced website features an updated virtual training center and IQ (instant quote) System, a web-based solution that harnesses the power of technology to standardize and improve the efficiency of the F&I process.
"The IQ System promotes compliance and increases profitability for our dealers with a comprehensive menu of all available F&I products," said Lori Blackson, Vice President of Sales at RpmOne, based in Jupiter, FL. "It also improves department productivity and efficiency by allowing users to easily create and store quotes and contracts, select profit margins, and quickly assess overall deal profitability. The system further allows users to electronically process and view the status of claims and contracts.
"In today's market with so much access to online data, dealerships find themselves encountering buyers daily that are armed with information and ready to purchase," Blackson explained. "Those educated buyers want to maintain and protect their ownership experience with a myriad of coverages to choose from. The demand that now falls on the dealers is greater than ever before to provide not only a suite of comprehensive products and services, but also to use streamlined technology to get those buyers out of the dealership and enjoying their new unit as quickly as possible."
"Our IQ System has menu capabilities and integrates with ADP Lightspeed, the largest DMS (dealer management system) provider in the powersports space," Blackson added. "This allows our partners to quote a package based on the customer's buying needs, and then import all the deal information right into our system for the most efficient way to move the customer through the F&I process. This saves dealers a lot of time, which in turn allows them to serve more customers and make more sales per hour."
"The IQ System dramatically improves the efficiency and profitability of our clients' F&I operations by ensuring 100% of eligible products are offered to 100% of their customers 100% of the time," said Alexis Johnson, Vice President of Operations at RpmOne. "This in turn leads to reduced administrative costs, improved customer satisfaction, increased sales volumes, and significant improvements in dealership profitability."
About RpmOne:
RpmOne, based in Jupiter, FL., is dedicated to serving the powersports market with F&I products and dealer development services designed to increase dealer profits and F&I productivity. By leveraging its broad experience with dealerships, lenders, and insurance companies, the company has created a portfolio of industry-leading F&I programs, web-based tools, training programs, and sales and marketing systems to meet the unique demands of the powersports industry. RpmOne currently serves approximately 500 dealers in nearly all 50 states. RpmOne is a subsidiary of Interstate National, which has been providing F&I products and services for over 35 years. For more information, visit RpmOne.com.