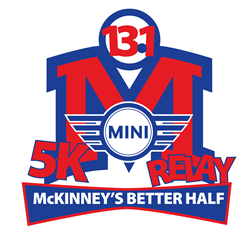 Christmas Come Early
McKinney, TX (PRWEB) July 17, 2014
Sale will take place at HALF OFF HALF SALE.
The McKinney Mini Half Marathon is back for its second year on Saturday, November 8th. Get Racing has partnered with The Beach and the Pencils of Promise (pencilsofpromise.org) to produce this annual event. Doors will open at 8:00am for this fantastic 100 hour sale where the code "HALFOFFHALF" will be worth 50% discount on the current early non-refundable prices of $70 (half marathon) and $80 (two person half-marathon relay). GETRACING.ORG encourages everyone to take advantage of this sale as no GROUPON or other sales will be utilized.
Additionally, prices for all events increase after September 1st; tell a friend.
The race will benefit the Pencils of Promise, an award-wining nonprofit organization that has built more than two hundred schools around the world. For more, information visit http://www.pencilsofpromise.org.
The MINI starts at The Beach and will run down flat roads to Stonebridge Ranch and return back to The Beach in Craig Ranch.The race course will have an entire lane coned off for the runners and policemen will be located at major intersections for the safety of the runners. If you are not ready for a half marathon yet, no problem. Partner up with a friend and signup for the relay. The first half is approximately 5.3 miles and the second leg is 7.8 miles. Still too long? Register for the 5K. Upon completion of the race all competitors will be awarded a custom finishers medal.
With a successful first event in 2013, the Mini will have standard age group awards for the 5K and the half and to keep things interesting there will be random prize drawings too but you must be present to win. All preregistered runners will receive custom race hoodie sweatshirts. The race will be timed by Race Chip Timing. Race results will be posted at the event and will be posted online after the race. The half marathon course will be open for 3.5 hours. For more information, and a course map visit our website. The sale starts July 25 so plan accordingly and tell a friend.
"Based on the positive feedback we received from the competitors of the inaugural McKinney Mini, we felt it was important to bring back the event for another year and truly make the race McKinney's Better Half," GETRACING.ORG owner Michelle Huddleston said. "We feel that this can grow and become a large-scale event that showcases The Beach at Craig Ranch and the award-winning city of McKinney."
Last year's winners established the course records: Female - Lauren Barnett 1:21:57.8 and Male - Trapper Yates 1:21:30.3. With a certified half marathon course, USA Track & Field will recognize times from the McKinney Mini Half Marathon as official finishing times.
REMEMBER: July 25 – 100 hours – Code: "HALFOFFHALF"
Get Racing is a full service professional race production company. The staff of Get Racing are athletes themselves and have over 50 years of combined experience. They are dedicated to producing both fun and safe events for the community. From a charity fun run to a triathlon, Get Racing events have something for everyone. They believe in a healthy lifestyle and want to support that belief by creating events that get people outside exercising. You can keep up with all of the latest news from GETRACING at http://www.GETRACING.org, on Facebook at Facebook.com/GETRACING and Twitter at Twitter.com/GETRACING.