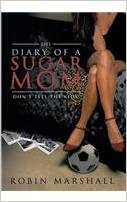 Robin spares no punches in the topics that she deals with from random sexual encounters, to fantasizing about men, to accepting gifts from them.
Los Angeles, CA (PRWEB) July 09, 2014
The book Diary of a Sugar Mom – Don't Tell the Kids, which launched Monday, July 7, 2014 is a poignant and perhaps controversial, diary of a modern mother who did what she had to in order to pay the bills and feed her children.
Told with unabashed honesty in frank fashion, Robin Marshall conveys the wisdom, insight and moxie she gained over the years trying to support five children. The result is this tell-all-to-me that is part fact, part fiction so a book of pure "faction." This book is meant to muster moxie, challenge boundaries and explore breaking through the comfort zones that society imposes.
Robin Marshall writes with cheeky wit and humor, instantly drawing the reader in with her candor and keeping them riveted with a fresh, conversational tone. The book is often a rambling mosaic of actual events and happenings that mimic life's randomness and often inconsistent patterns.
The advice is simple: "Believe half of what men say and all of what men do." Reading like a how-to guide on how to survive, Robin spares no punches in the topics that she deals with from random sexual encounters, to fantasizing about men, to accepting gifts from them. "Guys only want one thing—to be heard and appreciated."
Other topics covered span right from the initial first date, through the getting-to-know-you phase and onto the supposed dating and "gifting" phase. She bravely delves into the female mind and exposes the mental debates of a woman initially in a position to merely survive yet finding herself in a position of enjoying a new, secret lifestyle that she couldn't tell the kids or anyone else. She grapples with wanting to commit to one man yet not wanting to be limited or give up her freedoms.
To purchase the book click here.
About
Robin Marshall, is an author, media personality and inspirational speaker. She is the Production Manager for Sound Solutions, a division of Cumulus Media. In her position she overseas commercial production for Cumulus's 525 radio stations located in 110 cities throughout the US. She is also a highly regarded independent, national voiceover talent, who before recently moving to Dallas, was based in NYC with a long list of clients including Night Skin, P-Diddy, Wal-Mart, Lexus, Best Western Hotels, Outback, Fuji Film, and hundreds of other highly recognizable brands. She has also been the voice of the nationally syndicated shows like Randy Jackson's 'Hit List' (Westwood One), 'The Star Report' (Premiere Radio Networks) Jayne FM, and a campaign for Sean Johns' 'Unforgivable Fragrances.' Robin was also an on-air personality for 20 years and continues to be the imaging voice for several radio stations from coast to coast. For more information, click here or contact Sheila Stewart at 303-378-2022 (c) or 310.593.4410 (o) or SStewart(at)SheilaStewartPR(dot)com.
###