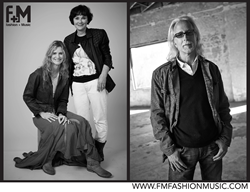 'Fashion and music influence one another,' said Morales. 'Musicians and visual artists create powerful, connections with their fans, and we want to leverage this power to create a shopping experience online in a way that will revolutionize e-commerce.'
Austin, TX (PRWEB) July 10, 2014
Fashion and music have a meaningful and long standing connection. fM fashion Music brings these unique art forms together in an e-commerce experience that is unlike anything else in the online retail marketplace. Velyna Morales, successful fashion executive, and her partner Jill Lynch, artisan and music enthusiast, have teamed up with music and technology experts to create a cutting edge user experience that will change the way people shop online.
"Fashion and music influence one another. When we add the power of the internet, we are able to create something that was impossible to conceive of even a few years ago," said Velyna Morales, Founder and CEO of fM fashion Music. "Musicians and visual artists create powerful, lasting connections with their fans, and we want to leverage this power to create a shopping experience online in such a way that will revolutionize e-commerce."
"We believe that music transforms us, lifts our spirits, encourages us to think and question…provocative visual art does the same," remarked Lynch, Co founder. With this in mind, f+M features an art-filled online shopping experience around the item most connected to music—the t-shirt.
Partnering with visual artists from around the world, fM fashion Music combines contemporary art with sentiments that play with song lyrics and hint at messages from admired music artists. The brand has launched with an exclusive art Wear t-shirt collection, its version of the band tee, the classic fashion-music apparel item. Historically a powerful vehicle for mobile and visible artistic expression, the f+M art Wear tee provides a unique opportunity for fashion oriented self-expression to its music loving customer.
The f+M art Wear journey for visual art began with a search for true pioneers in the world of body art for its first collection. Over time, the art concept grew to include all forms of contemporary art, a provocative and powerful vehicle for self-expression. Ultimately, artist partners from Austin, New York, and Berlin, Germany have participated in the first edition f+M art Wear collection. With a heart for the arts generally, and a deep conviction for the plight of the struggling artist, each purchase at fM fashion Music directly benefits an artist.
John Clutts, owner of The Clutts Agency, Inc., a creative agency in Dallas,Texas, brings a wealth of experience to the fM fashion Music team. His broad scope of creative work includes photography, talent, location, and set design across the home and fashion industries. John possesses an inherent talent for understanding artistic thinking. With his vast industry experience, he has been invited to participate in key advisory roles for some of Dallas' most notable art institutions (The Dallas Children's Theater, The Dallas Contemporary, and DIFFA to name a few). His depth of knowledge and creativity in the arts contributes to the integrity of the art piece of the fM fashion Music mission.
To bring the music component to the company, f+M has entered into a strategic partnership with Playing in Traffic Records. The Austin, Texas indie label is run by music industry veteran, Kevin Wommack, Co-founder, fM fashion Music. A passionate music fan focused on creating a home for artists that ensures their autonomy in creating art, Wommack has been instrumental in facilitating the inclusion of talented artists on fMfashionMusic.com. This partnership highlights the significance of the music loving millennial customer and their purchasing power in this space.
To bring this powerful collaboration to life, fM fashion Music has partnered with New Hampshire-based digital marketing agency, Altos, to conceive a highly interactive online presentation. Users simultaneously view music videos featuring artists wearing first edition f+M art Wear while shopping. The centerpiece of the online platform leverages an extraordinary user experience. Combining this next generation online platform with social media results in a powerful social commerce play targeting the millennial demographic across North America.
First edition contemporary art Wear t-shirts are available on the website ranging from $40-$110 dollars.
About fM fashion Music:
Velyna Morales, successful fashion executive, Jill Lynch, artisan and music enthusiast, and Kevin Wommack, music business veteran, have joined forces to launch fM fashion Music. By layering a multimedia experience with a visually stunning e-commerce website, the f+M team is creating an online experience unlike anything found elsewhere online. The site features up and coming music artists wearing f+M art Wear apparel, while showcasing the apparel in a streamlined shopping experience.