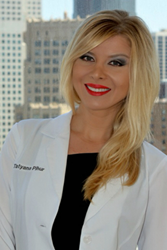 San Francisco, CA (PRWEB) July 08, 2014
Dr. Tatyana Pihur of Skyline Dental Studio, located in the heart of the financial district, is proud to offer area residents a revolutionary new form of gum surgery in San Francisco, CA that treats gum recession resulting from gum disease, teeth clenching or grinding, and other factors with no cuts, sutures, bleeding, or swelling. The Chao Pinhole Surgical Technique™ can help people to restore healthy gum levels and cosmetically pleasing smiles in minimal time and with minimal impact or discomfort.
With the Chao Pinhole Surgical Technique™, Dr. Pihur literally uses a small pin to make a hole in the gum tissue near the treatment area, and through this opening repositions the gum tissue to cover tooth roots left exposed by gum recession. Receding gums can result from many things including gum disease, overly aggressive brushing techniques, grinding of teeth at night, and more. When the gums recede, teeth can begin to appear excessively long and they can be at risk for eventual extraction if the gums recede far enough to no longer provide adequate support for them. When teeth are missing, the stimulation they provided to the jaw bone is also lost. Over a period of time, the bone in the jaw can then erode which leads to even further problems with speaking, eating, and cosmetic appearance.
Traditional forms of gum surgery in San Francisco, CA rely upon scalpels to cut into the gum tissue. Tissue is incised from other areas of the mouth and grafted to areas in need to cover exposed teeth. This process involves not just cuts but also stitches, leaving patients to deal with lengthy and painful healing periods. Patients who undergo the Chao Pinhole Surgical Technique™ can leave the Dr. Pihur's office and resume their days as normal with one difference—a noticeably improved smile. The visual effects of this technique are immediate, making it highly popular among people concerned about their appearance.
If you have gum disease that has resulted in gum recession and put off seeking gum surgery in San Francisco, CA due to fears of painful, complicated procedures, you should schedule a consultation with Dr. Pihur. She and her staff at Skyline Dental Studio are committed to your comfort and dental health. More information about the Chao Pinhole Surgical Technique™ can also be found on Dr. Pihur's website.
About The Doctor
Skyline Dental Studio is a state of the art general practice offering personalized dental care for patients in San Francisco and the Bay area. Dr. Tatyana Pihur received a Doctorate degree from the University of Louisville School of Dentistry in Kentucky. She is California Board Certified, and is certified to perform the Chao Pinhole Surgical TechniqueTM, Clear Correct Invisible Braces, Fastbraces, Conscious Sedation, Lumineers, and other procedures. In addition, Dr. Pihur is a member of the American Dental Association, California Dental Association, San Francisco Dental Society, and received America's Top Dentist 2013 Award by Consumers' Research Council. To learn more about Skyline Dental Studio and their dental services visit their website at http://skylinedentalstudio.com/ or call their office at (415) 981-4960.