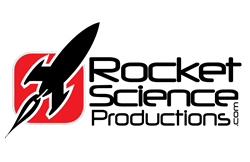 Burke, VA (PRWEB) July 09, 2014
Independent publisher, Rocket Science Productions, is launching Basset Brothers Entertainment, which will specialize in the creation, productions, and marketing of films, TV shows, web series, commercials, and radio.
Basset Brothers Entertainment is opening its doors with Internet radio channel, WRSP, which starts on July 22nd. WRSP will be featuring interview/talk shows with authors and celebrities (indies and mainstream) from all over the world. Three shows are currently scheduled to go live: The Author's Talk Show hosted by author Douglas A. Huggins, will focus on authors and their books. The FLiP M and FliP W shows, sponsored by FLiP M/W magazine, will be hosted by popular models and Chief Editors, Jax Turyna and Alexis Nichols. The FLiP shows will focus on interviewing actors, directors, producers, musicians, and many other professionals within the entertainment industry. More information about the available shows, sponsorship, promotions, and guest opportunities can be found at http://www.wrspradio.com.
Rocket Science Productions is based out of Northern Virginia and is the publisher of the popular Stanley & Norman (The Basset Brothers) children's book series by Frank Monahan, the Academy of the Fallen YA series by Daniele Lanzarotta, and The Royal Arch of Enoch by Robert W. Sullivan IV, among many others. Rocket Science Productions is currently accepting new authors within all genres.
###