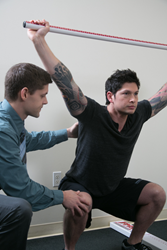 Staying active is an important component of many aspects of health and wellness.
San Francisco, CA (PRWEB) July 09, 2014
As summer hits the Bay Area and the temperatures rise, there are more and more opportunities to enjoy the outdoors and get in some physical activity. Staying physically active throughout childhood and adulthood is an important aspect of staying healthy. The Centers for Disease Control, partnering with First Lady Michelle Obama's Let's Move! campaign, recommends that children engage in an hour of physical activity every day and that adults should engage in a half hour of physical activity everyday. Engaging in aerobic, muscle strengthening, and bone strengthening activity has a positive impact on everyday health and also reduces the risk of developing many diseases and obesity.
"Staying active is an important component of many aspects of health and wellness," explains Dr. Adam Jacobs."Aerobic exercise promotes heart and lung health, while weight-bearing exercises such as hiking, jogging, and jumping rope help to strengthen bones. There is no such thing as a lose-lose situation when following health and safety guidelines during physical activity."
Benefits of increasing physical activity include increasing mental acuity and concentration, getting a better night's sleep, building muscle, and increasing stamina. Regular physical activity also boosts energy levels. More oxygen and nutrients are carried to the tissues and muscles as physical activity increases, leading to the cardiovascular system – the heart and lungs – working more efficiently without getting fatigued as easily. Further, physical activity and exercise are also mood boosters. Physical activity stimulates the release of neurotransmitters – chemical messengers in the brain – which can enhance mood, leading to feeling happier and more relaxed.
"It is important to stretch and stay hydrated during physical activity and exercise in order to avoid injury," advises Dr. Anthony Gustin."A diet rich in essential nutrients to serve as fuel for physical activity is also a top priority."
It is possible to retain a sports injury or even a repetitive stress injury during everyday activities. These injuries can impede on day to day functions and activities. Sports specific chiropractic care can help play a role in preventing injuries or speeding up the recovery process. The certified sports chiropractors at SF Custom Chiropractic have been helping patients return to optimum health after acute and chronic sports injuries as well as other sources of pain on a daily basis by tackling everything from back pain and TMJ to tennis elbow, migraines, and chronic inflammation.
As one of the top chiropractic offices in the Bay Area, SF Custom Chiropractic provides services tailored for athletes and office workers of all ages. Active Release Technique, kinesio-taping and Functional Movement Screening are a few of the techniques that help treat musculoskeletal injuries that may arise from being active. These services can help assess biomechanical faults, muscle imbalances and asymmetries, while promoting muscle stability and neuromuscular efficiency. When the patient moves better, their likelihood for overuse injuries diminishes significantly.
If you are suffering from decreased mobility or activity and want to stay physically active, SF Custom Chiropractic can help by providing nutritional advice, lifestyle and ergonomic recommendations, as well as natural approaches to manage injuries, aches and pains. For the month of July, the treating doctors at SF Custom Chiropractic will give a complimentary consultation to new patients who have sustained a sports injury to the back or extremities such as the forearm, shoulder, and knee. Call the office at (415) 788-8700 for more details.