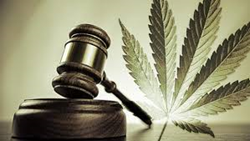 ...even if marijuana is bought legally in Washington, it is illegal to take it across the border into Canada.
(PRWEB) July 09, 2014
On Tuesday July 8, 2014 Washington became the second state to allow people to buy marijuana legally. Colorado started allowing marijuana sales on January 1st. Both states voted in November 2012 to legalize marijuana for adults over 21, and have created state-licensed systems for growing, selling and taxing sales. Customers started lining up at 8am with 29-year-old Cale Holdsworth, making the first purchase at Top Shelf Cannabis in Bellingham. As customers applauded, he held his brown bag aloft and said, "This is a great moment."
Some Canadians, particularly those in British Columbia who share a common border with Washington State, may wish to cross the border in order to take advantage of this. Azmairnin Jadavji, President of Pardon Services Canada cautions Canadians saying, "Even if marijuana is bought legally in Washington, it is illegal to take it across the border into Canada." Furthermore, he states, "It is important to know that admitting to a border official that you smoke pot, or that you are crossing the border to buy it, can result in being denied entry into the U.S. and even have you deemed inadmissible to the U.S. for life."
About Pardon Services Canada
An industry leader in helping Canadians overcome the obstacles of a criminal record. Since 1989, Pardon Services Canada has successfully assisted over 100,000 Canadians exercise their lawful rights under the Criminal Records Act of Canada, and the Immigration and Nationality Act of the United States. Services include US Entry Waivers, Record Suspensions (formerly called pardons), and fingerprinting. Offices are located in Vancouver, Calgary, Toronto, Edmonton, Ottawa and Montreal. Call toll free 1-866-972-7366 or visit the website Pardon Services Canada