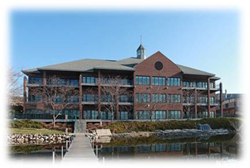 After thorough review, EarthBend was chosen for their best in class offerings, technical capability and cost.
Spring Park, MN (PRWEB) July 09, 2014
In February 2014, EarthBend received a request for proposal from the Anoka-Hennepin School district to refresh their districts Wireless Network, Local Area and Wide Area Network Equipment and Implementation Services. Working with a 30-day deadline, EarthBend leveraged their strong engineering and leadership teams to quickly identify the right technologies and services that met the district's requirements. EarthBend presented a solution that showcased Brocade switches for Local Area and Wide Area Network and Aruba for the Wireless Network. Both Solutions offered the best cost, technical requirements and superior performance. EarthBend was awarded the entire system implementation on May 12th, 2014 and is currently working with the Anoka-Hennepin team to deploy this solution and will provide additional services to ensure this project is managed to the best interest of the district's needs.
"I am proud of the level of professionalism and expertise that our team displayed during this entire process. We are excited to be a trusted partner for the Anoka-Hennepin School District and look forward to providing best in class service to them for many years to come," said Rob Beyer, CEO of EarthBend.
As a world class solution provider EarthBend selected Aruba as the Wireless LAN technology partner for the Anoka-Hennepin School District. EarthBend chose Aruba based on their leadership in the Campus Wireless Access Solutions. Utilizing the Aruba Instant Access Point technology coupled with Centralized Airwave Management and ClearPass Device Management provided a low cost, efficient and easily managed Wireless solution that provides exceptional coverage, increase data rates and addresses the districts BYOD initiative. In addition, EarthBend selected Brocade as the Wired LAN technology partner for the Anoka-Hennepin School District. EarthBend chose Brocade based on their Campus focused product and technology solutions. Utilizing the Brocade ICX series Campus switches allows flexibility using a stacked solution versus a standard chassis based deployment. This provides a low cost solution with a greater growth path for higher data rates, as well as centralized management for their 50 plus locations.
The networking infrastructure for Anoka-Hennepin was last replaced around 2006 and has been used well past end of life for many of the components. The wireless infrastructure was insufficient to provide students and educators with consistent and reliable networking. The addition of bring your own device program added additional pressure to provide highly available network services. As they continued to see a steep rise in mobile devices, providing access that is dependable was a critical part of leveraging as much use as possible out of the efforts that depend on mobile devices. Anoka-Hennepin reviewed separate and combined proposals from multiple vendors that provide both wired and wireless technologies. A team of evaluators including technical staff, principals, teachers and other support staff all agreed that EarthBend's proposal using the Aruba/Brocade solution was the best value proposal.
"After thorough review, EarthBend was chosen for their best in class offerings, technical capability and cost. We are excited o have them as a trusted partner and look forward to leveraging both our team and theirs to provide reliable network access for our students and educators," said Joel VerDuin Chief Technology and Information Officer with Anoka-Hennepin School District.
Deployment for this wired and wireless network refresh will take place staring this summer and be completed by the end of the 2014-2015 school year.
About EarthBend
EarthBend has been a trusted information technology provider in the upper Midwest for over 32 years. They provide leading edge technologies, local engineers for on-site consulting and support, and competitive pricing through its national reach. Their experienced team can provide businesses with IT computing, data storage, business phones and networking. With three decades of experience, EarthBend's proven methodologies and full suite of consulting, support and managed services can support your organization whether big or small. Every EarthBend account executive and engineer commits to ongoing education, certification and training in order to provide the best consultation, design, implementation and support for businesses.