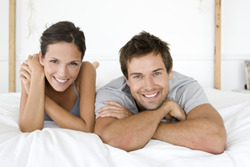 Los Angeles, California (PRWEB) July 14, 2014
Dr. Kaveh Kanani, the head of Around the Corner Dental Health Spa in Woodland Hills, has unveiled his revolutionary method of inserting dental implants. Known as the Flap-less/Drill-less Surgery Method, this technique has been lauded the world over for its effectiveness and cost efficiency, making this Woodland Hills dentist one of the top in his field.
To many, Dr. Kanani's Flap-less/Drill-less Surgery Method is a dream come true. Not only has this family dentist in Woodland Hills managed to slice down how much dental implants cost, he has also managed to breathe new live into this conventional form of oral surgery. Here are two reasons why the Flap-less/Drill-less Surgery Method trumps other conventional methods.
1. Innovative and Modern
Conventional dental implants are inserted once the dentist painstakingly cuts into the patient's gums and drills into the jawbone. The drilling will lead to small hole where the titanium implant is placed into. The dentist will then suture the wound close and the patient is given several months to heal before heading back to the clinic to complete the procedure. Dr. Kanani's Flap-less/Drill-less Surgery Method does not call for any painful cutting or drilling. He simply uses a series of dental instruments to expand the jawbone. Once a gap has been formed, he will place the dental implant into it, suture it shut and have the patient return once it has healed to place the replacement tooth over it. This general dentist in Woodland Hills has showcased the success of his method numerous times, garnering an unbelievable amount of respect from his patients and peers.
2. More Affordable
What many people do not realize is that before dental implants can be inserted into the jawbone, the dentist will first have to determine how badly eroded the jawbone is. Commonly seen amongst people who have lived with tooth loss for a very long time, there are cases whereby their jawbones simply are not strong enough to support the drilling and insertion of the dental implant. This is due to severe bone loss. Patients who have this problem have to first undergo block bone graft surgery. This means that a medical doctor will remove a small block of bone from a viable part of the patient's body, commonly from the ribs. This block of bone will then be placed into the jawbone to form a solid and strong platform. Only once this is done can the dentist drill into it to insert the dental implant. As mentioned, Dr. Kanani's method eliminates the need for any drilling. Because he expands the jawbone to form a gap and not drill into it, bone loss is not a problem. This means that patients will save thousands of dollars, time and pain by foregoing the block bone graft surgery if they opt for Dr. Kanani's method.
To find out more about dental implants and Dr. Kanani's revolutionary method, contact Around the Corner Dental Health Spa for more information. Call (818) 962-1141 or log on to http://www.woodlandhillsdentalspa.com today.