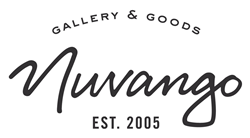 TORONTO (PRWEB) July 09, 2014
GelaSkins, industry leader in artist-designed accessories for iPhones, iPads and other mobile devices, has rebranded to Nuvango and evolved its previously invite-only gallery and production/fulfillment services into a platform for all artists to join.
Nuvango is the product of eight years spent developing a premier artist collective under the GelaSkins brand, which has made its name supporting artists around the world and for crafting high quality art prints and tech accessories. Nuvango aims to build on that reputation and connect established and up-and-coming artists to a wider audience of design-savvy consumers who are drawn to creative and well-crafted goods. Nuvango will feature more artists, showcase a more diverse catalog of art, and introduce several new product lines in 2014 including apparel and home furnishings.
Nuvango will continue GelaSkins' tradition of high-quality manufacturing and printing. By producing the goods in-house, it is able to maintain a level of quality, integrity and passion that other art marketplaces that outsource their goods do not. Being vertically-integrated is key since it allows a greater degree of quality control for the products and the ability to consistently pay industry-leading royalties to the artists. To date the company has paid over $2,500,000 in royalties to participating artists.
How it works: Artists upload work to their portfolios on Nuvango.com and then choose the product lines they would like to sell. Nuvango proprietary web technology allows the artist to create products that complement each individual piece. The customer browsing experience is initially curated by Nuvango's taste makers. However, as the user continues to interact with the site, he is presented with more artwork that suits his personal preferences and style.
Nuvango has a team dedicated to helping artists get the most out of their platform. By offering portfolio tips, product creation advice and social media coaching, they provide a wealth of resources to help artists succeed. Our primary focus is helping art lovers to discover and appreciate new artists.
"The question we'd always hear was 'how can I get my art up on your site?' said Drew Downs, Co-Founder and CEO, Nuvango. "We've had to turn away dozens of talented artists for every one that we've added over the years. Nuvango offers a better experience for more artists than ever before. Our mission is to help artists expose their work to more people and provide them with a way to make a living from their craft."
To experience the new art community, visit http://www.Nuvango.com
# # #
ABOUT NUVANGO
Nuvango is an online art gallery and marketplace where artists sell their work on well-crafted products and gain exposure to an established community of design lovers from around the world.
Artists retain all rights to their images, are paid a transparent and industry-leading royalty and can trust Nuvango to handle production, inventory and fulfillment with the same level of passion that they put into their artwork. Nuvango's mission is to give people a way to make art a bigger part of their day-to-day life and to reward the artists who make that possible.
Nuvango Media Contacts:
Rosemarie Esposito / Ayla Richards / Lindsay Goldwert
+1 646-738-8964 / +1 646 561 8546
press(at)nuvango(dot)com