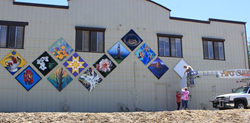 "Vivian suggested we should do art blocks," says Janet Morita, a watercolor artist whose work is on display at Timberline Gallery. "We loved the idea, so we all got 4x4 foot pieces of plywood and got to work."
Oakhurst, CA (PRWEB) July 09, 2014
On Saturday, July 12th, the Yosemite "Rocks" Artistic Learning Series continues at Timberline Gallery and Gallery Yosemite in Oakhurst. This is one of the many local events scheduled to honor the Yosemite Grant 150th Anniversary.
Gallery Yosemite and Timberline Gallery will host this series on the 2nd Saturday of each month (special dates in April) thru September. This is a free event at the galleries in Oakhurst.
The July offering is a special event, celebrating the installation of the Art Quilt Block Mural on the north wall of Gallery Row. As part of this celebration there will be a special showing of the "Wild and Wonderful Show" and Carolyn Hartling's solo showing of "Echoes" from 1:00 p.m. till 5:00 p.m. The Yosemite "Rocks" Learning series is sure to rock with the kids, starting at 10:00 a.m. till 1:00 p.m. the kiddos will enjoy learning how to weave, paint, and bubble printing.
Other scheduled events in the Yosemite "Rocks" series are:
July 12th – Summer Children's Event with weaving, painting, and bubble printing.
August 9th – Art Treasures of Yosemite Museum presentation by Richard Pettier
September 13th – Yosemite Museum, Yosemite history presentation
For more event information you can go to the Yosemite Sierra Visitors Bureau website at http://www.yosemitethisyear.com and for more information on the Yosemite Grant 150th Anniversary go to http://www.nps.gov/yose/anniversary.
###