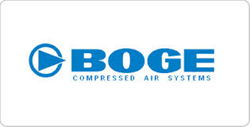 Powder Springs, GA (PRWEB) July 10, 2014
A large number of industrial applications depend on absolutely oil free compressed air. Up until now, either oil free screw compressors or expensive filtration devices have been used for this purpose, resulting in low efficiencies and high costs. The new BOGE BLUEKAT screw compressors with their integrated converter offer an absolutely new and significantly more efficient option. BLUEKAT screw compressors can also be used without limitation for all applications that depend on absolutely oil free compressed air.
In traditional compressors, oil is injected into the compression chamber as a sealing and cooling medium. Oil free compressed air is absolutely indispensable in the pharmaceutical, chemical, semiconductor or food as well as in the medical industries.
Prior to the introduction of the BOGE BLUEKAT compressors there were only two possibilities of oil free compressed air production - either the use of an oil free screw compressor, which meant a significantly higher compression temperature, a correspondingly lower efficiency and higher leakage losses - or multi-stage filtration of the compressed air from traditional compressors, resulting in additional energy and maintenance costs and the absence of a 100 percent safety guarantee.
In order to avoid these disadvantages BOGE has developed a new concept for oil free compressed air generation which prevails in the BOGE BLUEKAT range.
Efficiency and safety thanks to catalyst technology
BOGE BLUEKAT compressors are based on the highly efficient screw compressors of the S series - with traditional oil injection. The innovative highlight, a converter, is integrated directly after the compression stage serving to oxidise the oil contained in the compressed air into carbon dioxide and water. The purified air has a residual oil content of less than 0.01 mg/m3 and is thus considered to be absolutely oil free compressed air. This is an outstanding result which is achieved independently of the quality of the intake air: the converter also serves to even reliably transform oil loaded intake air into oil free air.
A series of advantages
Compared to external downstream converters the integrated converter feature of the BOGE BLUEKAT compressors offers quite a number of advantages: it is more efficient and helps save while eliminating expensive condensate disposal at the same time. In addition, in comparison with downstream compressed air treatment, it requires less maintenance and offers greater peace of mind. The models in the new BOGE BLUEKAT series are intended to cover the 40 and 50 hp performance classes and produce 135-235 cfm of oil free compressed air at 100, 125,150 and 190 psi. A variant with a frequency controlled drive is also available.
For those interested in the product, additional information on this new series and further details on the BOGE BLUEKAT concept are available at http://www.boge.de/bluekat.
About BOGE Compressors
BOGE America is the United States of America Daughter Company of BOGE International GmbH based in Bielefeld, Germany.
BOGE manufactures a comprehensive range of oil lubricated and oil free screw and piston compressors used by all sectors of industry to supply compressed air for a wide range of manufacturing processes. The company also supplies a complementary range of filters, dryers and condensate management equipment. The product is sold and serviced through a dedicated network of over 50 distributors in North and South America.