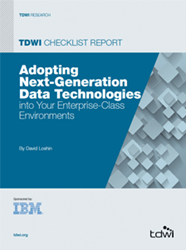 Approaches that take advantage of in-memory computing provide a significant advantage and should be a core component of an enterprise's next-generation architecture," Loshin advises.
Seattle, WA (PRWEB) July 09, 2014
TDWI Research has released its newest Checklist Report, Adopting Next-Generation Data Technologies into Your Enterprise-Class Environments. The report details seven tasks an enterprise should execute when evaluating next-generation data technologies that take advantage of legacy enterprise architectures. The report reveals how emerging data management methods pose challenges to balancing technology choices and discusses several important elements of your data management infrastructure worth considering, whether your implementation is on-premises, in the cloud, or a combination of the two.
TDWI instructor David Loshin, the author of the report, explains how traditional relational database management systems from established vendors have generally been a sound strategy but that "big data techniques present new alternatives for rapidly delivering insight to the business user."
Loshin notes that, "On the one hand, established technologies can be perceived as inadequately addressing the rapid development and delivery needs users have for absorbing and analyzing massive amounts of structured and unstructured data generated via Web, mobile, cloud, SaaS, and other sources. On the other hand, new technologies are perceived as inadequate for supporting long-standing traditional transactional and analytical workloads."
Loshin begins the report by explaining why enterprises should take advantage of in-memory computing, especially in light of declining memory and disk costs and new management paradigms (such as column-oriented databases). The author discusses advanced techniques that combine "hot" data residing in memory with "cold" data living on disk to enable in-memory speeds without requiring all data fit into main memory. "Approaches that take advantage of in-memory computing provide a significant advantage and should be a core component of an enterprise's next-generation architecture," Loshin advises.
The report also looks at:

The importance of planning for scalability given today's growing data and processing volumes, computational complexity, and user community size
Why enterprises must ensure availability of security, protection, reliability, and business continuity in their data management technologies
How to assess technology suitability by use case, such as using Hadoop and NoSQL for some new, non-traditional data types (such as unstructured data)
Integrating new technologies with established BI capabilities
Blending NoSQL with conventional data management systems
The Checklist Report also explores an enterprise's need to manage operating costs, especially factoring in trade-offs of free, open-source software options.
This research was sponsored by IBM.
Request a Copy of the Report
For a complete copy of the report or to ask questions of the author, members of the press should contact Marie Gipson at mgipson(at)tdwi(dot)org or 425-226-3106. The report is freely downloadable by the public at http://tdwi.org/research/2014/06/checklist-adopting-nextgeneration-data-technologies.aspx?tc=page0; a short registration is required for those downloading a TDWI report for the first time.
About the Author
David Loshin is president of Knowledge Integrity, Inc, and is a recognized thought leader, TDWI instructor, and expert consultant in the areas of data management and BI. David is a prolific author regarding BI best practices, as the author of numerous books and papers on data management, including Big Data Analytics: From Strategic Planning to Enterprise Integration with Tools, Techniques, NoSQL, and Graph and The Practitioner's Guide to Data Quality Improvement, with additional content provided at http://www.dataqualitybook.com. David is a frequently invited speaker at conferences, Web seminars, and sponsored websites and channels including http://www.b-eye-network.com. His best-selling book, Master Data Management, has been endorsed by data management industry leaders, and his valuable MDM insights can be reviewed at http://www.mdmbook.com.
About TDWI
TDWI, a division of 1105 Media, Inc., is the premier provider of in-depth, high-quality education and research in the business intelligence, data warehousing, and analytics industry. TDWI is dedicated to educating business and information technology professionals about the best practices, strategies, techniques, and tools required to successfully design, build, maintain, and enhance business intelligence, data warehousing, and analytics solutions. TDWI also fosters the advancement of business intelligence, data warehousing, and analytics research and contributes to knowledge transfer and the professional development of its members. TDWI offers a worldwide membership program, five major educational conferences annually, topical educational seminars, role-based training, on-site courses, certification, solution provider partnerships, an awards program for best practices, live Webinars, resourceful publications, and an in-depth research program. For more information, visit tdwi.org or follow us on Twitter @TDWI.
About 1105 Media
1105 Media, Inc., is a leading provider of integrated information and media in targeted business-to-business markets, including specialized sectors of the information technology community; industrial health, safety, and compliance; security; environmental protection; and home healthcare. 1105's offerings span print and online magazines, journals, and newsletters; seminars, conferences, and trade shows; training courseware; and Web-based services. 1105 Media is based in Chatsworth, CA, with offices throughout the United States.
Media Contact:
Marie Gipson, TDWI
mgipson(at)tdwi(dot)org
(425) 226-3106