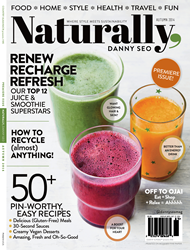 "Instead of gimmicky weight loss tips and fluffy celebrity profiles, our goal is to help people find inspiring ideas where they can embrace this natural lifestyle easily and beautifully." - Danny Seo.
New York, NY (PRWEB) July 14, 2014
NATURALLY, DANNY SEO, a new magazine from lifestyle authority Danny Seo and Harris Publications, debuts with a Fall issue that hits newsstands nationwide on July 15th. The lifestyle magazine looks at living the healthy, natural and good for you life with a fresh, authoritative voice that covers everything from food, beauty, travel, home, and entertaining all through Danny's unique point-of-view as America's leading guru of green living.
"Instead of gimmicky weight loss tips and fluffy celebrity profiles, our goal is to help people find inspiring ideas where they can embrace this natural lifestyle easily and beautifully," said Danny Seo, the magazine's founding editor-in-chief. "Unlike my home life where I try to recycle everything, there is no repurposed content here; our well-researched original stories are equally matched with top-notch photography, styling and writing with just one goal: to inspire and enlighten the women who read my magazine."
"There is no one as a lifestyle authority that people really resonate with in the healthy, natural space more than Danny Seo," said Ben Harris, President of Harris Publications, the publishing company supporting NATURALLY. "Danny is more than an editor: he's a force of nature that will prove this is more than just a gorgeous magazine, but the launching pad for a brand that will live beyond the pages of the publication."
Danny's presence and perspective run throughout the magazine. And he is joined by a team of top nutritionists, chefs, stylists, photographers and authorities who provide inspiring guidance for the readers.
Through Danny's nine bestselling books, nationally syndicated column, regular TODAY Show appearances as a lifestyle contributor, and his line of Danny Seo branded products sold at over 4000 stores across the United States, one thing has remained consistent: quality.
NATURALLY, DANNY SEO is printed on the highest quality paper from Mohawk Fine Papers. The rich cover and special 16-page insert showcases Mohawk Options, a premium paper that is American-made with 100% post-consumer recycled pulp, and manufactured using eco-friendly, wind-sourced alternative energy.
"Mohawk Fine Papers is the "Tiffany" of paper, plain and simple. The luxurious paper stock we are using takes this magazine from regular flimsy newsstand fare to archival quality. The images look like fine art, and the weight and feel make you want to savor every page," says Danny.
"In the digital age in which we live, consumers are rediscovering the importance of tangible objects that have permanence. We've seen a resurgence of consumers who want the tactile experience of reading a magazine on fine paper. Premium paper distinguishes a magazine. Fine paper feels beautiful, enhances imagery and immortalizes content, making a magazine more intriguing, cherished. We believe NATURALLY, DANNY SEO will change the tide in the publishing industry by fully engaging the senses of discriminating readers, from the fine paper it is printed on to the videos and enhanced content made available through the Mohawk Live augmented reality mobile app," says Bart Robinson, Senior Vice President Marketing, Mohawk.
Helene Fantozzi has been tapped as Publisher of NATURALLY, DANNY SEO. She was previously at Natural Health and at Rodale's Organic Style magazine.
The launch issue includes advertisers Movado Watches, Target, Nissan, OneKingsLane, Veev, Plum Organics, Wilsonart, Silk Soy Milk, Tru Fragrances, LifeFactory, Whole Foods, Boiron, Call2Recycle, Recyclebank, FEED Projects and more in its 144 pages.
Initial distribution of the first pilot issue is 350,000 copies with a newsstand cover price of $9.95. The second issue is planned for November 15, 2014 and a website will be created at dannyseo.com. Subscriptions will also be available.
Highlights from the first issue include:

NATURALLY, GO: In a special 16-page insert printed on 100% post-consumer recycled Mohawk Fine Paper, readers join Danny as he treks to the Equator in Africa to hunt for new and untapped scents to use for his fourth signature fragrance. Using an app called Mohawk Live, which brings printed materials and photos to life through HP's Aurasma augmented reality technology, readers can experience the African adventure along with Danny. Once the free app is downloaded, readers can scan photos featuring the Mohawk Live icon and the still images come to life on smartphones and tablets.
NATURALLY, DELICIOUS: From the world's easiest – and creamiest - DIY vegan ice cream to good-for-you and easy recipes created in collaboration with the Natural Gourmet Institute; food is always naturally healthy and mouth-wateringly delicious. Plus, ALL STAR juices, smoothies and tonics from the industry's top authors, nutritionists and chefs.
NATURALLY, ANGELA LINDVALL: The supermodel who has starred in major print campaigns for Versace, Dior and Chanel gives an intimate look at how she and her family live naturally at their Topanga Canyon, CA compound. A highlight: She gardens organically in a Chanel denim dress which she says "captures the dichotomy of my life. There's my high-fashion side, but at heart, I'm just a sh*t kicking tomboy from Kansas City."
NATURALLY, EASY: Want to turn leftover Legos into a cool and modern geometric lamp? Or upcycle kid's wooden blocks into ultra-stylish "metal" wooden sculptures? These projects (and more) are featured inside the pages of the magazine.
NATURALLY, STYLISH: Top stylist Sibella Court gives a glimpse inside her Sydney flat. Featuring set props she bought when the movie The Great Gatsby wrapped filming, her looks is effortlessly, naturally stylish, mixing Old World charm with modern conveniences.
NATURALLY @ HOME: Readers get an exclusive look inside Danny's Bucks County home which he renovated from top to bottom. This "glass box in the woods" home marries modern lines with warm, comfortable furnishings that showcase Danny's unique style that says: Welcome Home.
NATURALLY, AMY SMART: Actress - and certified yoga instructor and nutrition coach - Amy Smart visits Alisal Ranch to perfect her grilling skills at their BBQ Bootcamp. "I'm not a dieter. I believe in eating organic foods and having a somewhat clean lifestyle, but what's more important is balance."
The magazine's social media handle is @dannyseomag on both Twitter and Instagram.
###
ABOUT DANNY SEO:
Through his best-selling books, television programs, products, and syndicated column, environmental lifestyle expert Danny Seo shares the creative ideas that have made him America's leading authority on modern, eco-friendly living. Born on Earth Day in 1977, Danny has championed the natural biodiversity of our planet from a very young age. On his 12th birthday, he founded the organization Earth 2000 with just a few friends and $23. By his 18th birthday, he had transformed the grassroots organization into the country's largest teenage activist charity, spearheading worldwide campaigns on behalf of the environment. Today, Danny is founder and CEO of Danny Seo Media Ventures, a multimedia lifestyle company that marries style and sustainability across a whole host of media and merchandising products. The Danny Seo portfolio includes a line of home products sold at over 4,000 stores like TJ Maxx, Marshalls and HomeGoods; a syndicated column called "Do Just One Thing" appearing in hundreds of newspapers everyday; Danny Seo Philosophy organic wines; Danny Seo Reserve Beauty, a collection of fine fragrances and bath products sold on HSN; and more than nine bestselling books covering decorating, entertaining, crafts and more. Danny is also a national spokesperson and partner with Wilsonart, an American-made manufacturer of eco-friendly laminate surfaces and is a brand ambassador with the Ford Motor Company.
ABOUT HARRIS PUBLICATIONS:
Harris Publications Inc. is one of the nation's largest special interest media companies. The Company specializes in enthusiast publishing and operates over 75 brands with print, digital, mobile and live event platforms. Harris is ranked among the top ten publishers in the United States with titles spanning an array of genres including Automotive, Business, Decorating, Gardening, Home, Lifestyle, Outdoors, Music and Sports. Harris has pioneered new publishing genres, was one of the first publishers to embrace new media and is recognized as one of the most innovative publishers. Its digital footprint spans multiple enthusiast groups with a collection of industry-leading sites offering the most trusted, authoritative content in their fields. Founded in 1977, Harris Publications is based in New York, NY.
ABOUT MOHAWK:
Mohawk is North America's largest privately-owned manufacturer of fine papers and envelopes which are preferred for commercial and digital printing, photo specialties and high-end direct mail. Mohawk fine papers and envelopes include the signature brands Mohawk Superfine® and Strathmore®, as well as proprietary treatments Inxwell® and i-Tone®. With a culture of innovation, Mohawk's business model now extends beyond paper manufacturing into new areas of growth, including digital substrates and web-based software platforms, which connect designers and printers to new markets.
As a leader in environmentally and socially responsible business practices, Mohawk was the first U.S. manufacturer of commercial printing papers to match 100% of its electricity with wind power renewable energy credits and the first U.S. premium paper mill to shift toward carbon neutral production. Mohawk's portfolio of recycled papers is certified by Green Seal and the Forest Stewardship Council (FSC).
Mohawk is a fourth-generation, family-owned and operated business based in Cohoes, New York, with global sales and operations located throughout North America, Europe and Asia. For more information, please visit http://www.mohawkconnects.com.
CONTACT:
NATURALLY, DANNY SEO and HARRIS PUBLICATIONS
Noelle Primavera: 415.608.7221, primaverapr(at)gmail(dot)com
Rich Pedine (for TV): 323.823.0135, rich(at)richpedinepr(dot)com
MOHAWK
Diane C. O'Connor: 518-233-6397, oconnod(at)mohawkpaper(dot)com