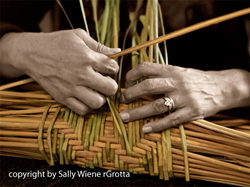 "Every once in a while great artists are able to transcend.... Sally's vision is grand... [and] ... reflected in the warmth she portrays in the people she photographs and the world she captures." ~ Steven Rosenbaum, former Editor of Modern Photography
(PRWEB) July 16, 2014
On Wednesday, July 23rd at 5:30 PM, renowned photographer and storyteller Sally Wiener Grotta will speak at a public reception for her most recent American Hands exhibit at The Century Club (612 Jefferson Ave, Scranton, PA 18510, 570-342-0204.) After a short introductory short lecture, she will give a gallery tour of the pictures, sharing the stories and insights she has learned through her ongoing interactions with traditional tradespeople (such as blacksmiths, glassblowers, ropemaker, tinsmith, etc.).
In addition, on Wednesday, Sally Wiener Grotta will conduct a photography workshop, on Wednesday, July 30th, from 1 PM to 3 PM. Open to the public, but limited to 25 individuals, Ms. Grotta will help photographers of all levels to see and capture scenes and light like a professional photographer. $30 per person. Reservations are required for the class: (570) 342-0204.
This exhibit is supported by a Lackawanna County Arts & Culture Grant.
ABOUT AMERICAN HANDS
American Hands is Sally Wiener Grotta's ongoing narrative visual celebration of those individuals blacksmiths, weavers, spinners, glassblowers, bookbinders, rug makers, etc who are keeping alive the traditional trades that built our country's diverse culture. Sally's natural down-to-earth style helps artisans warm to her camera, developing personal relationships that allow her to share in intensely private and often poignant creative moments, as well as spontaneous expressions of joy and discovery. Her narrative series of portraits capture both the fascinating creative processes and the individual personalities of the craftspersons. This project has hit a resonant chord with the public and the art world, and continues to generate quite a "buzz."
To learn more about American Hands, view the American Hands Vision video.
As Sally continues to travel around the country, photographing and capturing the stories of traditional artisans, new American Hands exhibits, lectures and workshops continue to be scheduled. To date, over 350,000 individuals have personally attended American Hands exhibits. Additional exhibits are currently scheduled through 2016.
American Hands has received more than three dozen grants plus numerous other honors. Sponsors include Hewlett Packard, Pentax/Ricoh, Kingston Technology, Smugmug and other corporations and private donors.
American Hands has been adopted under the fiscal sponsorship of the Artspire program of the New York Foundation for the Arts (NYFA), one of the most respected arts organization in the country. Through this relationship, all donations to American Hands are tax-deductible and administered by NYFA. Please consider supporting American Hands through a donation.
ABOUT SALLY WIENER GROTTA
Recognized as "one of the world's top photographers," such is Sally's renown that she is generally referred to by her first name. Her work has appeared in scores of exhibits. as well as many glossy magazines and books. The author of hundreds of articles and numerous books on photography and imaging, Sally gives lectures and workshops on photography, photo editing, digital art, and similar subjects around the continent. She is also a popular guest for radio and TV interviews on the subject of photography and imaging. Beyond the technology of photography, Sally focuses on the stories behind her pictures and the wondrous process of creating them. Sally is also the author of the critically acclaimed novel "Jo Joe" and the soon-to-be-published "The Winter Boy."
Every once in a while great artists are able to transcend.... Sally's vision is grand... [and] ... reflected in the warmth she portrays in the people she photographs and the world she captures. ~ Steven Rosenbaum, President of SIR Communications and former Editor of Modern Photography.