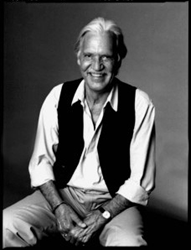 Los Angeles, California (PRWEB) July 09, 2014
Michael Butler, renowned theatrical producer, today announced the launch of his new website, michaelbutler.com. The new site hosts a wide variety of multimedia content, including Butler's biographical details; Butler's memoirs in the form of a themed series of audio podcasts, highlighting his friendship with John F. Kennedy; a decades-spanning image gallery showcasing images of Butler, his family and friends; and comprehensive resources for Butler's theatrical productions, including the generation-defining musical HAiR. Butler will continue to add new content to the website on an ongoing basis.
Among the most compelling content available on Butler's new site is his growing collection of audio-based memoirs, which will cover the scope of his long and fascinating life, including his transformation from a pro-war member of the "one percent" to a peace-loving purveyor of the counterculture with his shepherding of HAiR to the Broadway stage. An ongoing, eight-part series of podcasts about Butler's relationship with the Kennedy clan is of particular interest. The first two episodes, in which Butler recounts how he met, and then got to know John F. Kennedy, are currently online, and additional installments about working with JFK and Robert F. Kennedy are coming soon. Other areas of Butler's life to be covered in the series include his family history, his forays into state and national politics, his success as a theatrical producer, and his love for the sport of polo.
Butler's new website also provides a plethora of visual imagery to complement his engaging audio histories, via an engrossing image gallery showcasing hundreds of candid pictures of Butler and his friends, family and associates, as well as images of family residences and important documentation – including a copy of President Nixon's "Enemies List" citing Butler – and many images shot by Butler himself.
As Butler is perhaps most well known for his career as a theatrical producer, his new website also includes an Events & Interests section devoted to his stage productions, featuring key art and synopses of HAiR, Pope Joan, Dracula - Opera Erotica and Frédéric Clément, among many others.
To help him design and implement the michaelbutler.com website, Butler enlisted the Web Development Team at Island Technologies. Having had a long-standing and fruitful working relationship with Island, Butler was pleased, but not surprised, when the firm delivered his site on time and without issue.
About Michael Butler
Michael Butler was born in Chicago, Illinois, and attended the University of Virginia and the University of Colorado. He served as Special Advisor on the Middle East to (then-Senator) John F. Kennedy, and as Assistant to Illinois Governor Otto Kerner, Jr. Butler ran for a seat in the United States Senate, but abandoned his campaign in 1967 to produce the musical HAiR, which he brought to Broadway in 1968.