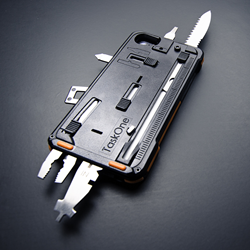 TaskLab builds products that bridge the gap between our digital and physical worlds, connecting online to offline experiences through innovative, useful products.
Atlanta, GA (PRWEB) July 10, 2014
At the center of the new product line is the TaskOne G3, which brings a "tool box" filled with necessities into one iPhone case. Packed with twenty-two 440C hardened stainless steel tools, two kickstands, and a universal saw blade mount, the TaskOne G3 will stand up to anything. Built from aircraft-aluminum and polycarbonate, users can be confident that their iPhone will be protected from any falls, scratches, and damage. With a 2.5" knife as the feature tool, the TaskOne G3 can easily accomplish any tough cutting jobs. Further, with the new universal saw blade mount, any standard reciprocating saw blade for wood or metal can be attached to the case (for sawing logs, 2x4s, steel rebar or copper piping) making the TaskOne G3 truly the most useful smartphone case ever developed. The TaskOne G3 is robust, confident, and not intimidated by anything.
The all new myTask line brings a whole new outlook on customization and personalization for iPhone accessories. For the cycling enthusiast or bike commuter, the myTask BIke is packed with 22 hardened steel Bicycle specific tools and a 4 pc tire patch kit should an emergency arise while riding a bike around the city, to the park or en route to work. Everything the biker needs for a ride, housed in a sleek, slim yet durable polycarbonate shell case. Users can swap out the BIKE tool tray and swap in the URBAN accessory tray when they arrive at the office or head out on the town. The URBAN tray contains accessories such as an 8gb USB stick, mirror, tweezers, bottle opener, 2" scissors, pen, and a mini-LED light – perfect for those on the go.
More and more people are turning to smartphones to engage in everyday activities - shopping, researching/reading, media viewing, transacting/banking, socializing, etc. People are mobile and, increasingly, only carry their mobile device with them. TaskLab's mission is to empower users in those moments, when all they have is their phone. TaskLab has positioned itself to be a power player in the smartphone accessory market by developing engaging, innovative, customizable accessories that extend the value of today's products and evolve with consumer's changing mobility.
TaskLab is the only manufacturer to launch such useful utility cases for smartphones, and is the leader in this fast-paced industry. And Tasklab is just getting started. They recently launched a new website where you can get more information on new products, concepts, and accessories currently in the works at TaskLab. Keep this company on your radar and stay tuned for exciting updates.
About TaskLab Inc.:
TaskLab builds "smart" smartphone accessories that are designed for higher levels of consumer interaction, brand recognition, and product value. They build products that bridge the gap between the digital and physical worlds, and connect online with offline experiences in a way never before experienced - via mobile phones and device cases. Founded in 2013 upon the belief that mobile technology will transform the way people interact with their environments, TaskLab is headquartered in Atlanta, GA and has 10 employees.