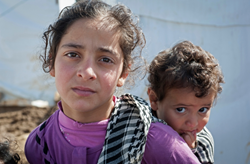 Ensuring that children are safe from harm should be foundational in any relief program so that children are not put at risk of further harm...
Phoenix, Ariz. (PRWEB) July 09, 2014
According to research conducted by UNICEF, the number of children affected by the Syrian conflict has more than doubled from 2.3 million to over 5.5 million since March of 2013, with the number of child refugees increasing from 260,000 to more than 1.2 million. Despite its small size, Lebanon plays host to the largest number of Syrian refugees, recently reaching 1 million, with almost half of these being children.
The Lebanese Society for Educational & Social Development (LSESD) Relief and Development department, a local NGO currently funded and supported by Food for the Hungry (FH), in partnership with Integral Alliance, began responding to the Syrian conflict in 2012. Since then, LSESD projects have grown to include seventeen partner churches and one NGO which provide food assistance for approximately 2,500 refugee families (15,000 individuals). Several of these church partners are also involved in education programs and informal children's work on a regular basis.
FH often works in tandem or directly through local NGOs in order to support existing relationships with aid beneficiaries. As LSESD's programs continue to grow, in addition to funding, FH has increased its attention to facilitating and implementing child protection policies and training in all areas of programming, with hopes that other NGOs world-wide, will follow suit.
As a result of extensive experience with child protection issues in emergency situations, FH has recommended that all LSESD and staff and partner volunteers engage in training on understanding and recognizing abuse, implementing behavior guidelines or codes of conduct as well as developing reporting and referral systems to allow families receiving aid to communicate honestly with the partners about their concerns.
Child protection specifically focuses on preventing and responding to abuse, neglect, exploitation and violence against children during the course of aid distribution, child-focused activities, and everyday life. Keeping children safe from this kind of harm is especially relevant in conflict and emergency situations, given that the evolving nature of armed conflict puts children at increased risk of danger.
In emergency situations, child protection is often counted as a secondary priority after relief has been administered. However, even without considering child-focused activities, all relief efforts involve in a high level of interaction with children and their families.
"Humanitarian actors need to take children's needs seriously and move from an understanding which sometimes sees child protection as an optional extra to one where it is recognized as a vital element in providing quality responses," says Kezia M'Clelland of Food for the Hungry and partnering organization, the international children's charity Viva. "Ensuring that children are safe from harm should be foundational in any relief program so that children are not put at risk of further harm through the design and implementation of programs."
In many cases, refugee children's lives are almost unrecognizable from their lives in Syria. In a recent study with refugees in Turkey, researchers found that two-thirds of children interviewed had been in a terrifying situation where they felt they were in great danger, one-third had been hit, kicked, or shot at, and three-quarters had experienced the death of at least one loved one.
Many children also no longer have access to education and are forced by circumstances to work to help provide for their families. "In Syria we played – here we don't," said children in a focus group in the Bekaa Valley in Lebanon. The children also shared that they used to go to parks, gardens, the zoo, the stadium, and play sports, but now they have only a small room or tent and nowhere to go. Children also described a general context of violence in life as refugees in Lebanon.
"We see it all the time—children have bruises on their faces, or their clothes are crumpled as if they have run away," said a project worker in Beirut.
"As more and more Syrian people seek refuge in Lebanon, focusing on child protection can help to prevent children from being separated from their families, recruited into armed forces, and being physically or sexually abused or exploited as aid is distributed to families," says M'Clelland. "In many cases, child protection also encompasses children's psychosocial wellbeing, seeking to strengthen their resilience and ability to cope with very difficult life circumstances."
Several LSESD local church partners engage with children regularly by hosting child-centered activities such as dramas, arts and crafts and educational events. Additionally, LSESD has one major education project, a school for refugee children in Zahle in the Bekaa Valley, which is serving 184 children from Kindergarten through Grade Six as well as two literacy classes for children who have been out of school.
As LSESD and its partners continue to develop child-focused activities and increase community and family awareness of children's safety risks in this environment, FH hopes that other NGOs world-wide will begin to adapt child protection policies as part of a more holistic approach to dealing with emergency situations of all kinds.
Founded in 1971, Food for the Hungry provides emergency relief and long-term development programs with operations in more than 20 countries to help the world's most vulnerable people. Learn more by visiting http://www.fh.org. Social connections include http://www.facebook.com/foodforthehungry and http://www.twitter.com/food4thehungry.