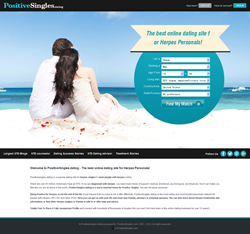 Positivesingles.dating
(PRWEB) July 19, 2014
Thousands of people from across the globe owe their successful relationships to this website. PositiveSingles.dating is a brand new domain under Positive Singles that was launched in June. The marketing manager of PositiveSingles.Dating appeared very happy to see the latest development and growth of the PS brand.
Marketing Manager of PositiveSingles.Dating said, "PositiveSingles.com is currently the best website for herpes dating in the world and we are looking to make it even better. In the prospect of improvising our services and making them more professional, we included a dot dating domain to our portfolio."
A recent survey conducted in the United States of America reveals that over 65 million people in the country are infected with a sexually transmitted disease. "Over the period of 13 years, we have realized the unique needs of people with herpes. Those who are diagnosed with herpes require various kinds of support. It may be medical, financial, emotional or even financial", said the Marketing Manager.
An STD expert from the website who looks after the "counseling / dating tips" department says that many people on the website feel lonely. In an interview with us Amily said, "They feel left out. They are skeptical about how other would respond on knowing about their medical condition. Sometimes, it becomes very difficult to convince them that they can have a normal life like just like we do".
Positive Singles is known to have a warm – hearted atmosphere that encourages dating between people with herpes. The site embellishes on the tag line – "You are not alone anymore" and "Herpes is not the end of life". Furthermore, it encourages people to live differently. Besides Herpes, it also caters to people having HPV, HIV and other sexually transmitted diseases.
The new website manages to carry forward the legacy of PositiveSingles.com in the form of features and a seamless user interface. The core of PositiveSingles.dating remains the same – extending support to people with herpes and giving them a platform to make friends, companions or potential spouses. Users can also use this website effectively to research about herpes and learn how to cope up with the stigma surrounding it.
The website allows users to create a free profile and endorse it. The new launch from the house of PositiveSingles.com is all set to take the dating industry by storm. With a decent number of features available at a competitive price bracket, people with herpes will certainly appreciate it.
For more information, please visit http://www.Positivesingles.dating.