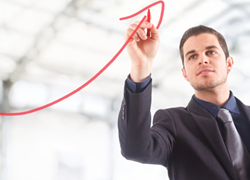 this cooling will be good for those looking to make a new home purchase
Chicago, IL (PRWEB) July 08, 2014
While some reports, such as the Federal Housing Finance Agency's April Home Price Index, have said that appreciation is slowing, it is still posting gains. Lenders like The Federal Savings Bank enjoy this news as it attracts prospective home buyers to apply for a home loan.
The CoreLogic HPI released on July 1st recently found that in May home prices increased 4.1 percent month over month. When excluding distressed sales, which are real estate-owned and short sales, there was a 1.2 percent gain. Compared to May 2013, there was 8.8 percent growth, marking the 27th consecutive month of year-over-year increases. With distressed sales, there was an 8.1 percent rise.
"The pace of home price appreciation is cooling off quickly as the weather warms up," said Mark Fleming, CoreLogic chief economist. "May's 8.8 percent year-over-year growth rate is down almost three percentage points from just three months ago. The influences of modestly rising inventory and less-than-expected demand are causing price growth to moderate toward our forecasted expectations."
Mr. Flemings sentiment mirrors that of other economists who have said prices are finally moderating after skyrocketing for much of the housing recovery. Anand Nallathambi, president and CEO of CoreLogic, said that this cooling will be good for those looking to make a new home purchase, as the fast pace of appreciation has lead to affordability issues for many potential home buyers, while at the same time pulling many underwater homes from negative equity.
At the state level, there were no declines. Additionally, 25 states and the District of Columbia were at or within 10 percent of their peak home price growth. The Federal Savings Bank, a veteran owned bank in the Midwest was intrigued in seeing how Hawaii notched the best figure when including distressed sales, rising 13.2 percent in May compared to the previous year. The Aloha State was followed by California (13.1 percent), Nevada (12.6 percent), Michigan (11.8 percent) and New York (+11.0 percent).
When excluding distressed sales, New York topped the list, increasing 12.2 percent year over year.
Investors are driving prices up
According to a July 4th New York Times article titled "Investors Are Pushing Starter-Home Prices Up", institutional investors are a large contributor to price gains. Daren Blomquist, RealtyTrac vice president, told the New York Times that many local investors are reporting that their institutional counterparts are pushing appreciation, particularly at foreclosure auctions. He went on to say that such investors and cash buyers were responsible for much of the price growth seen throughout the housing recovery.
For information about how you can get a low cost mortgage to get the home of your dreams, contact the Federal Savings Bank, a veteran owned bank.