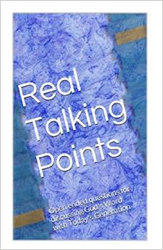 Open-ended questions for discussing God's Word with the youth of today.
(PRWEB) July 15, 2014
The bell rings and a class of intermediates end their chatter and head for the door of the church classroom. A parent standing outside, waiting on their child to emerge, walks into the room to shake the Sunday School teacher's hand. "My son really loves your class, none of his other teachers can get him to talk." Another parent chimes in that her daughter now looks forward to Sunday mornings.
The teacher smiles and looks around the now empty classroom, pondering how his background in investment banking, student government, and home remodeling, got him here. At 26 years old, Jerry Latimer wonders if carpentry might be his next vocation.
"It took Christ 30 years before he started walking in the fullness of his calling…" Jerry said. "The way I see it, I've got four more years to grow from mistakes."
If by mistakes, Jerry means a flurry of accomplishments, then he has made plenty. At only 16 years old, he initiated and led a chapter of the Fellowship of Christian Athletes at M. L. King high school, he went on to be Vice President of the Mercer University campus ministry, All God's Anointed People Evangelizing (A.G.A.P.E.), and a Summer Vacation Bible School teacher at New Piney Grove Missionary Baptist Church. He currently serves what has now turned into a 4-year term teaching Sunday School to a coed group of teens ages 12-15.
"It's an awkward age," Jerry said. "People are scared to teach this age range because the kids are in transition. They are not little children and crayons are out of the question, but they're not quite old enough for lessons about predetermination or the 7 seals." Each week on Sunday morning, he packs life lessons and Bible stories into 1 hour. When he first began teaching, he endured many months of blank stares from disinterested pre-teens and teenagers. After some time he realized, "Having been raised in church, I am well aware of how boring Sunday school can be at times. Many of the lessons were difficult to understand at a young age, and the stories were from an adult's point of view and perspective. Many teachers only told the stories from their point of view instead of bringing the story down to my level."
His idea isn't a novel one. Major corporations and top tier schools clamor to figure out ways to attract and advertise to Generation Y (aka Millenials ages 0 to 31). Jerry has embarked on a journey to reaching the hearts of the generation that's asking "why" the most.
Studies on the Millennials generation find that they have shorter attention spans than their already impatient predecessor, Generation X. Most shockingly, Millennials have the highest percentage of individuals who claim that they don't believe in God, more than that of Generation X and the Baby Boomers put together.
"I always promised myself that if I ever became a Sunday school teacher, I would make sure that the information was entertaining and educational," Jerry said. The curriculum used church-wide for everyone from the toddlers to the senior citizens and Jerry found it to be too rigid to be relatable to a child. "It's clear it was created from an adult's perspective and it doesn't attempt to share personal stories about their background as a part of the lesson."
After almost a year of overcoming the poor reaction from his class, Jerry began developing a method of teaching that the students responded to best. With the blessing of the Sunday School Superintendent, he began to develop an idea. The method was simple, promoted participation, and translated well in the class room. The method involved carefully crafted questions that had a high success rate with boys and girls of getting thoughtful dialogue. The method was memorialized in his head, but with Jerry's busy work and volunteer schedule, putting pen to paper seemed to be an impossible task.
Then, what he thought was impossible became reality. After climbing the ladder at a Fortune 500 company gaining certifications and promotions, he found himself laid off and in the unemployment line. "I felt like John, exiled from the city of workers to an island of Patmos all by myself," Jerry said.
As he hunted for a new job, he spent his free time starting the daunting task of creating a relevant Sunday School curriculum. After 4 months of compiling all the points and effective lessons, he had gathered over the past 4 years of teaching, Real Talking Points by Jerry Latimer became a reality.
The instructional book gives the student an in-depth walk through the life of Jesus. Each lesson takes an aspect of Christ's time on earth by first relating it to our time. On the subject of "Jesus is Visited by Nicodemus," the open-ended preliminary discussion question asks, "Have you ever tried to explain new technology to your parents? Was it hard to explain or easy? How did you help them understand the device or process?" The lesson then introduces the applicable Scripture passage, and asks the follow-up questions, "Explain what it means to be born again. Discuss what a Pharisee represented, and how all the knowledge he learned could not help him understand what it meant to be born again."
During an age where many "tweens" feel that they are being talked at rather than listened to, Real Talking Points' lessons places value in the students' view of the world and encourages conversation about things that are important to the students. The lesson plan is then much more easily discussed in that context.
Jerry says that he plans to follow the great commission and "Go." "I would like to see if Real Talking Points is relatable in other countries, so I would like to have it translated into Spanish and Mandarin," Jerry said. "I feel if I can just help just one child out there that doesn't know Christ, then I have done enough."
Real Talking Points - Open ended questions for discussing God's Word with Today's Generation can be purchased on amazon at the link below, and is also available digitally for the iPad, Nook, Kindle, and Android devices.
http://www.amazon.com/Real-Talking-Points-Discussing-Generation/dp/099145961X/ref=sr_1_1?s=books&ie=UTF8&qid=1404873498&sr=1-1&keywords=real+talking+points