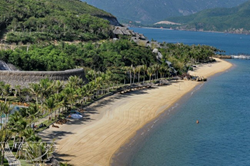 Hanoi, Vietnam (PRWEB) July 09, 2014
When the summer comes, most holiday makers wonder where to escape from the hot weather. Understanding this demand, Smile Travel Vietnam company would like to introduce some special tours to Nha Trang Beach. Considered Vietnam's most famous seaside resort-town, Nha Trang attracts foreign tourists for not only its stunningly pristine beaches but also the urban atmosphere of a young tourist city.
Nha Trang has consistently maintained its position as one of the most beautiful bays of the world. The town is about 450km north of Saigon and 1200km south of Hanoi. With the 4-km-long main strip of beaches, Nha Trang Bay covers the area of 405km2, including 19 large and small islands. As viewed from high above, the bay looks like the aquamarine stone sparkling in the sunshine, bounded by miles of smoothly golden sands.
Smile Travel Vietnam knows that this city is well-known for offering travelers various tour activities. Tourists will have a chance to explore its colorful coral reef underwater by booking a diving tour in Nha Trang Bay or taking "1 day Islands and Snorkeling" tour. In addition, visitors can combine discovering its nature and culture, thanks to "Nha Trang Beach Break" tour in 5 days. "Coming to Nha Trang in the period from January to August, one will have the chance to experience the most wonderful weather for swimming and sunbathing," shared Mr. Long, the Chief Executive. "Various tourism services are provided, including tours on an airship, parachuting, sail boating, water motoring, water-skating and water–skiing. All help to create a wonderful, exciting time for tourists," added he.
Besides enjoying a memorable summer holiday, tourists are also provided a Vietnam visa on arrival without fee if they book a tour to Nha Trang with Smile Travel Vietnam agency. Normally, it costs 19 USD for one visa on arrival. Thus, holiday makers can save a lot of money if they intend to travel in a big group.
For further details, please contact sales(at)smiletravelvietnam(dot)com or call +84 976 127 023.
About Smile Travel Vietnam:
Smile Travel Vietnam has grown to be recognized as one of the leading travel agencies in Vietnam. Since 2008, the agency has been providing high quality and professional tourism services such as Vietnam visas, airfares, and tour packages.