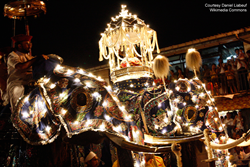 Kandy's Esala Perahera festival is one of the most colorful and exciting events anywhere in the world. It's an amazing way explore Sri Lanka's fascinating culture.
Singapore (PRWEB) July 09, 2014
Agoda.com, one of Asia's leading hotel booking sites and part of Nasdaq-listed Priceline Group (Nasdaq:PCLN), has rounded up a superb list of special deals at hotels in Kandy, Sri Lanka, around the Esala Perahera festival, one of the country's most important religious celebrations. This year, it will be held from 1 to 10 August.
Although the festival's roots go back over 2,000 years, the structure of the modern celebration was set in the mid-1700s when King Rajasinghe declared that a holy relic – one of the Buddha's teeth – be taken around the city so that everyone could show their reverence. Legend says the tooth was taken from Buddha's ashes and smuggled into Sri Lanka, giving whomever possesses it a high level of legal and moral authority. An iconic rallying symbol for military and political power struggles throughout the centuries, today the relic resides in the Dalada Maligawa, or Temple of the Tooth, Sri Lanka's holiest shrine. The festival is a way for devotees to celebrate the relic's history, and reaffirm their Buddhist faith.
The celebration has been billed as one of the most vivid, colorful, culturally rich celebrations in Asia, if not the world. Frenetic music, flamboyant attire, and intricately-costumed elephants make each night's parade an unforgettable experience. Fire dancers swing burning coconut husks around their bodies, men crack whips to scare away demons, and smoke from incense wafts throughout the crowd lining the streets. The parade on the last night, during the full moon, reaches the festival's loudest, busiest, most raucous level of fun. Be sure to bring your camera and leave lots of room for photos.
The festival is best experienced over multiple days. Afterwards there are plenty of things to see in Kandy, a UNESCO World Heritage site. It was the last capital of the era of Sri Lankan kings, before coming under British rule in 1815. Surrounded by thick forest and hilly tea plantations, there are streets with beautiful colonial architecture, expansive botanical and spice gardens, elegant temples, and a number of fantastic hill treks.
As Sri Lanka's second-biggest city, Kandy also has plenty of transport links to other parts of the island – the capital city of Colombo, the striking Sigiriya Fortress, impressive elephant sanctuaries, and fantastic beaches on the south and west coasts.
Visiting Sri Lanka is rewarding at any time of the year, but during the Esala Perahera period, it's particularly enjoyable. Agoda.com has made a list of hotels offering fantastic prices during the holiday. Head to the Agoda.com press center (http://press.agoda.com/news/2014/7/9/agodacom-readies-super-saver-hotel-deals-for-sri-lankas-esal.html) to see the selection.