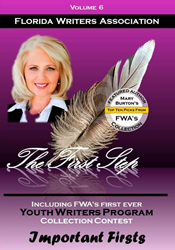 Orlando, FL (PRWEB) July 09, 2014
The Florida Writers Association today announced the winners of its annual writing contest. Sixty winning writers will have their work published in the sixth edition of the "FWA Collection – The First Step." The contest, held between February 1st and May 15th of 2014 drew over 175 entries from writers across Florida and beyond. Sixty of the entries, chosen by a blind-judging process have made the cut to have their worked published in "FWA Collection Volume 6." This year, six of the winning writers are being published for the first time ever.
Every year, FWA's writing contest features a Person of Renown, who chooses his or her ten favorite stories from the sixty winners. This year, Mary Burton, New York Times and USA Today bestselling author of romantic suspense novels has made her Top Ten Picks. FWA proudly presents those authors here.
1. Karen Dillon, Wild Rose, Ocala
2. Mark McWaters, Hunger Pangs, Longwood
3. Micki Browning, Wreckage, Key Largo
4. Robert Alan, A Walk In The Park, Panama City
5. Michael Goldcraft, It Was a Dark and Stormy Night, Panama City
6. Judy Harte, Lethal Injection, Jensen Beach
7. Ian Darling, High Flight, Waterloo, Ontario, CANADA
8. Frank T. Masi, Shadows of War, Windermere
9. Charles Harris, My First Day on the Job, New Smyrna Beach
10. Catherine Giordano, Te Amo, Orlando
The list of all 60 winners can be found at: http://www.floridawriters.net./uploads/2014WinningAuthorsAnnouncement_Revision_2.docx.pdf.
FWA also announced the results of its first ever Youth Collection – Important Firsts. Three winning youth writers will be published in FWA Collection Volume 6. The youth contest is modeled after the adult collection, but carries its own theme against which young writers must create their stories as well as its own Person of Renown. This year the youth collection contest's Person of Renown is also its creator, FWA Director Emerita Chrissy Jackson. For more information on the FWA Florida Youth Writers contest, please visit http://www.floridayouthwriters.org/.
The Florida Writers Association, 1,400 members strong and growing, is a nonprofit 501(c) (6) organization that supports the state's established and emerging writers. Membership is open to the public.
For more information about the Florida Writers Association, please visit http://www.floridawriters.net.
###