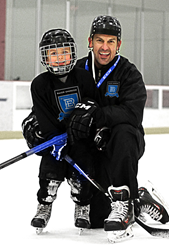 "We want our kids to act with confidence as unique and free thinkers."
North St. Paul, MN (PRWEB) July 09, 2014
The nation's premier state for hockey will soon be home to the nation's first leadership academy exclusively for students with a passion for the game. Launching in August 2014, Bauer-Emerson Preparatory Academy will offer a groundbreaking program that provides leading-edge academics, elite sports development, and personal career direction for exceptionally focused student-athletes.
Dedicated to teaching lifelong learning skills that allow students to reach their potential, the private Academy will be located in North St. Paul, Minnesota, and will serve students in grades 3 through 12.
Distinctly unique among schools nationwide, the Academy will offer students an equal balance of academic and athletic training, with all programs completed during the school day -- allowing students a balanced life with their families. By fortifying the robust academic school day with ice training, off-ice training and hockey IQ, the Academy doubles the standard development and training of other programs, with a training-to-game ratio of 4:1.
The school also holds a coveted Tier 1, full in-season hockey charter for the 2014-2015 season, with elite sanctioning by Minnesota Hockey -- the statewide governing body of amateur hockey in Minnesota, and an affiliate of USA Hockey. Bauer-Emerson's Revolution Tier 1 AAA Hockey Team will field players at the U19, U16 and U14 levels for girls, and at the U18, U16 and U14 levels for boys. Younger students will compete at the Squirt A and PeeWee AA level in District 2 of Minnesota Hockey, via an affiliation with the North St Paul Area Hockey Association.
All Revolution team members will also have the exclusive opportunity to take advantage of the Academy's exceptional academic program -- as only full-time Bauer-Emerson students are allowed to play on the school's teams.
Students interested in attending the Academy can attend one of two, free Bauer-Emerson Tier 1 Revolution Hockey Showcases. At these special events, Bauer-Emerson staff will evaluate all participating players, which is an essential requirement before students can enroll in the Academy.
A showcase for older students will be held on July 26 from 6-9 pm, and July 27 from 9am-12pm., at the Vadnais Heights Sports Center (1490 East County Road E, Vadnais Heights, MN), where players can display their talent to U19, 16 and 14 women's coaches, and U18, 16, 14 men's coaches, for an opportunity to be a part Bauer-Emerson's Tier 1 program.
A second showcase for younger students will be held on July 31 from 6:30-8:45 pm at Mariucci Arena (1901 4th St SE, Minneapolis, MN), where Squirt and PeeWee players are invited to display their talent.
Space for both events is limited, and pre-registration is required at http://www.bauer-emerson.org/tryouts.
More than just a team on the ice, students at Bauer-Emerson will also be part of a cohesive group of like-minded students who play and learn together. A typical school day will include a combination of classroom instruction, studying, educational enrichment activities, ice time, dry-land training and hockey IQ.
At the Academy, students will experience state-of-the art learning with the nation's most effective curriculum from Odysseyware. Using innovative, interactive and proven learning methods, this award winning, web-based program engages students to focus on subject mastery. Individualized lessons and built-in assessments accommodate each student's learning abilities, and allow adjustments to help students become proficient. Students can work at their own pace, with remediation or advanced work provided as needed. Odysseyware provides sophisticated, user-friendly monitoring portals for students, teachers and parents. Families can precisely follow their children's progress in each course, with all assessments and time-spent records accessible anywhere, in real-time.
Students will also receive an unmatched level of personal assistance and guidance at the school from Minnesota-certified instructors that hold teaching licenses, Bachelor's or Master's degrees. Direct instruction for each student is provided by on-site educators maintaining a ratio of 1 instructor per 15 students.
As part of its nurturing environment, the Academy will also offer a mentorship or "buddy" system that pairs older students with younger ones to help integrate them into all facets of the Academy. Broader life experiences will also take students outside the classroom, including community service and public speaking. The Academy will also offer labs, group projects and other enrichment opportunities dovetailing the school's academic program with more traditional environments.
Bauer-Emerson's exceptional academic program is mirrored in its premier athletic development program. Led by skilled, dynamic and caring coaching staff, the Academy's model of creating skilled and successful hockey players includes a comprehensive personal development plan, skill development sessions, and professional-style team practices. Each student receives innovative, age-appropriate training on a daily basis, as part of a year-long combination of team and skill concepts.
In addition to Tier 1 teams, the school's Squirt and PeeWee teams will also have an opportunity for top competition by competing in MN Hockey, the nations leading community program, via its affiliation with North St. Paul Area Hockey Association.
Bauer-Emerson will sponsor its AAA teams before and after the season as well, with continuing opportunities in the summer.
Beyond helping each student to develop their talents on the classroom and on the ice, the Academy will uniquely equip them for success in hockey careers that extend beyond playing the game. Through presentations and mentorships with hockey-related professionals, students can explore a variety of career opportunities directly associated with hockey, including management, training, development, front office and sports marketing.
Bauer-Emerson's campus headquarters will be located in the 33,000 sq ft North St. Paul Community Center (2300 North St. Paul Drive, North St. Paul, MN). Uniquely matching the school's needs, the facility has multiple individual classrooms, gymnasiums, an indoor running track, a commons area, and an attached branch of the Ramsey County Library.
Hockey training will take place at nearby Polar Ice Arena, Aldrich Arena, Vadnais Heights Sports Center, and other local arenas and rinks as needed.
School co-owners Greg Gartner and Tom Forsythe reached back into history for the Academy's name.
Both descendants of Austrian immigrants, Forsythe's family (Komro/Bauer) were dairy farmers and Gartner's family were (and still are) grape growers and winemakers in Austria. "Bauer" means "farmer" in German, which reflects a similar, strong work ethic that the Academy's students will aspire to.
The Emerson component of the name draws from the inspiration of Ralph Waldo Emerson's essay on "Self Reliance." Gartner states, "We want our kids to act with confidence as unique and free thinkers. Our Academy has a philosophical difference from other programs, which focus simply on tournaments and individual exposure. Our mission is not just about competition, but rather the development of each student, and creating an environment where relationships and camaraderie enhance the journey of competing and growing together. We also want to teach our students about accepting the realities of hockey, and that not everyone will play in the pros. We will prepare them to pursue dreams in the sport, and how to take their winning attitude and commitment to the next level to succeed at whatever they do."
Forsythe adds, "Hockey is a great 21st century substitute for farm life, where success requires a consistent and relentless effort. We want our students to develop this work ethic, but to also realize their full potential through education. Greg and I hope to blend the rigors of education and hockey to create dynamic, young and hardworking leaders."
Academic leadership will be provided by Tony Lancette as Executive Director of Education. Lancette has a unique vision on creating a new standard in how education is delivered. His career includes working directly with students and athletes for over 20 years as an athletic official and trainer. As a Harvard graduate, his passion for academic excellence will inspire the Academy's students to achieve their own personal classroom goals.
Steve Briere will serve as Executive Vice President and Goaltending Director. Briere brings over 30 years of goaltending experience to the Bauer-Emerson program, with a 10 year professional career playing in the AHL, IHL, ECHL and Europe. Upon retirement Steve made the transition from professional goaltender to professional goalie coach at the NHL, NCAA, USHL, NAHL, SJHL levels.
Lee Goren will serve as VP of Hockey Operations, and Head Coach of the school's U18 boy's team. Goren's impressive hockey background includes an NHL career with the Boston Bruins, Florida Panthers and Vancouver Canucks, as well as playing professionally in Europe. Most recently he served as Assistant Men's Hockey Coach at St. Olaf College.
Stephen Yurichuck will serve as Boys Program Director. Known in the hockey world as Yuro, he went on from a pro hockey career in Germany to become one of the best development coaches in the game, working with the St. Louis Blues and with some of the top players from around the world at all levels from the USHL, Major Junior, College to the NHL.
Chris Peterson will serve as Girls Program Director, and Head Coach for the Academy's U19 team. Building on years of high school coaching success and Tier 1 coaching experience at Shattuck-St. Mary's, Peterson will actively prepare and showcase the Academy's girl's players for college opportunities.
Tony Gruba will serve as Executive Director of Bauer-Emerson's Revolution Tier 1 Hockey Program. Gruba was drafted by the Detroit Red Wings of the NHL and also played minor league hockey. He has spent the last several years coaching youth hockey and developing the curriculum for the Hockey iQ Academy, which focuses on helping players develop the mental aspects of the game to complement their physical skills.
Classes will begin September 2, 2014, with orientation held August 26-28.
For more information on Bauer-Emerson Prep Academy, visit http://www.Bauer-Emerson.org; or to schedule a personal tour contact Lisa Marty, Director of Admissions at 715-781-3791, or lmarty(at)Bauer-Emerson(dot)org. For more details on the Bauer-Emerson Tier 1 Revolution Hockey Showcases, contact Lee Goren at 612-799-7906 or email: LGoren(at)Bauer-Emerson(dot)org.