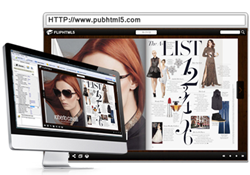 (PRWEB) July 10, 2014
PUB HTML5, a leading HTML5 digital platform, has recently launched an HTML5 magazine publishing platform. The website is extremely helpful for businesses, publishing houses and marketers because they can publish their magazines, brochures, catalogs or any other marketing materials into a beautiful and magnificent HTML5 digital catalog.
In today's cutthroat competition, it is very much imperative to present business, companies, achievement or anything significant in a unique and impressive way. Instead of using any conventional way to promote business, people should join steps with technology and take business to the next level.
PUB HTML5 digital publishing software allows a business to convert magazine, catalog, and flipbooks into the interactive HTML5 digital catalog. Users can upload different types of multimedia such as YouTube and Vimeo into the publication. Do not think that the converted publication will please the eyes only; instead it will entertain ears as well.
PUB HTML5 magazine publication platform allows users to add audio, MP3, MP4, along with Google Analytic to make an interactive magazine with multimedia. Audiences can easily access this user-friendly digital publishing platform on PC, Android, iPad and iPhone devices. Additionally, it is compatible with MS-Office, TXT, Open Office and image formats.
Users can embed videos, web page links, and can set password for their publication. Apart from using it on PC, and iPad, users can PUB HTML5 digital publishing platform on mobile as well because of mobile-friendly pure HTML5 digital catalogue.
"Times of PDF catalog has gone. We launched this magazine-publishing platform so that people can convert their PDFs into interactive flippable HTML5 publications. We are not charging anything for that, and in fact, we provide several Premium solutions with many additional features through which you can embed multiple multimedia, eye-catching animations and can also make your publications password protected," said PUB HTML5 official.
Over 30,000 companies has used PUB HTML5 magazine publishing platform by far, and they are overwhelmed with the performance and outcomes. By using this amazing digital platform, users can sell directly from the pages of their digital catalog. It works offline and on cloud-based solutions.
About PUB HTML5:
PUB HTML5 is an amazing HTML5 digital platform that allows users to publish their magazines, brochures or catalogs into interactive multimedia publications. The company helps businesses to provide their potential readers an incredible reading and shopping experience. It can be accessed from all major mobile platforms, including iOS, Android, and Win8. For more information about PUB hTML5, please click here - http://pubhtml5.com/.