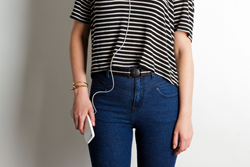 Just received my jelt belt and I LOVE IT!! I hate bulky belts, but this one is amazing! Keeps my jeans up with out the bulk!! Thank you!!-Julie Farkas Corrigan
(PRWEB) July 10, 2014
For many, a daily problem has been solved by the arrival of the Jelt Belt. The new-to-market Jelt Belt is for people on a quest to keep their pants from sagging and gapping. The Bozeman, Montana-based business is the brainchild of Jennifer Perry who saw a need and met it with the low profile, elastic stretch belt inspired by belts from the 1980s. Perry worked closely with engineers to develop a stylish, functional product that appeals to a wide demographic of both men and women.
Made with recycled materials, a proprietary grippy gel on the interior of the belt, and a flat, plastic buckle, Jelts come in four different colors. With its sleek design, the Jelt fits perfectly through skinny jean loops and remedies the ever-so-frustrating sag that happens to jeans after a day on the go. The unique, flat buckle provides support without the typical bulge, making it wearable under fitted blouses and tops. The metal-free design makes it perfect for travel and passing through security with ease.
Jen Perry created Jelt to help people feel good about themselves, and to fill a gap in the accessories industry. Jelt gives back by donating 10% of profits to an annually chosen, non-profit charity.
So, for those who could use a little help with keeping their pants secure throughout the whole day, Jen Perry has come up with a wearable solution that wins on all counts—comfort, control and style. Jelt represents local entrepreneurship, the efforts of non-profits around the US, and the confidence one feels by wearing a belt that supports and fits. With Jen's steadfast conviction to her new idea, personal dedication to her business, and a desire to make a difference, the Jelt will become a "must-have" product in no time.
Jelt Belt is a Bozeman, Montana based company that solves every day wardrobe woes for the every day consumer. Founded in 2014 by Jennifer Perry, the mission of the Jelt Belt is to "Keep Your Pants on!" And it does just that. For photos, to arrange an interview with Jennifer or to request product samples, please contact Jessica Minalga at jessicaminalga(at)gmail(dot)com. Head to http://jeltbelt.com today.