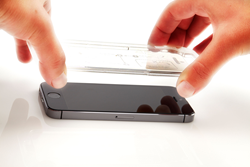 "The rise of smartphones and tablets is transpiring much faster than most realize. Nearly all households now have at least a few of these devices. This makes the necessity for screen protection fundamental."
Chicago, IL (PRWEB) July 10, 2014
ReVamp is no stranger to innovation – the manufacturer is the power behind the ReNū brand of high-quality smartphone and tablet repair parts. The company has today announced something new, a patented smartphone and tablet protection system designed to perfectly fit each device. Simple Snap has officially emerged from the R&D process, and has just entered manufacturing.
"The rise of smartphones and tablets is transpiring much faster than most realize. Nearly all households now have at least a few of these devices. This makes the necessity for screen protection fundamental," said Anant Handa, CEO of ReVamp Electronics.
The most common type of damage for both smartphones and tablets is to the screen – scratches, cracks and shattered glass incidents outnumber all other damage types by a large margin. ReVamp Electronics created Simple Snap screen protectors to remedy that. The revolutionary product offers significant advantages, but perhaps the most important is Simple Snap's perfect fit – the custom mold ensures up to 0.1mm accuracy, with ultra-high quality materials sourced from Japan.
Another advantage can be seen in the product's name. Unlike conventional screen protectors that can be immensely difficult to apply to a smartphone or tablet's screen (and rarely fit correctly), Simple Snap screen protectors, well, snap right into place. Consumers just press down to install. It's that simple, and there are no bubbles to mar the surface.
"We designed Simple Snap to be different – it fits devices like a second skin, and is fingerprint-resistant thanks to Oleophobic materials," said COO David Sharma. "The custom mold will change the device protection industry."
ReVamp has announced it will be launching the product via a Kickstarter campaign, which will kick-off in late July 2014.
To learn more about Simple Snap or the company's upcoming Kickstarter campaign, visit http://www.SimpleSnap.com.
About ReVamp Electronics: ReVamp Electronics began in 2010 as an online repair depot for smartphones and tablets. The company quickly grew to become one of the largest screen-repair providers in the world. In 2013, ReVamp began distributing Samsung, iPhone and iPad repair parts and also launched its ReNū premium line of parts.
Contact: Ashley Carman, Director of Sales
Name: ReVamp Electronics
Phone: 1-877-9-REVAMP
Web Address: http://www.SimpleSnap.com
Email: Press(at)SimpleSnap(dot)com
Source: Ashley Carman