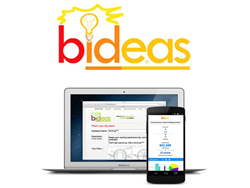 "Bideas sounds like an invention factory for the 21st century" – Thomas Edison's Grandnephew
Silicon Beach, Los Angeles, California (PRWEB) July 09, 2014
Bideas.com ("bid-ee-uhs") is an exciting new startup based in Los Angeles, founded by successful inventor Chris Simpson. The site and app will be a secure bid-and-auction marketplace for the "should-be" writer, ad man/woman, composer, inventor, designer, environmentalist, scientist, or idea person of any kind – to "auction their 'Eureka!' moments" securely to relevant, innovative, open-minded companies – no broken copyright system stuck in the 19th century required.
"It's not clear that we really need patents in most industries," said Federal Judge Richard A. Posner recently in an interview for Reuters.
One may think of Bideas as a private "eBay for ideas." Companies already engage in auctions every day – from the inventor who laboriously shops his idea to find the highest offer, to film studios that compete in expensive script bidding wars. Bideas is tidying that process up for the good of all, because companies must innovate better and cheaper in order to survive.
Bideas is set to evolve the mechanics of how an idea is brought to market. Simpson says, "Companies lose billions by not buying game-changing ideas when they're still a great value, instead waiting for entrepreneurs to laboriously – hopefully – bring them to market, then acquiring them for a fortune. This made no sense to us, so we said, 'Why not bring 5-star ideas straight to the companies on Day One?' Our mechanisms predict that genetic fingerprint at the idea's infancy." Many such companies including Staples, BMW, P&G, and Microsoft are already in talks to receive Bideas users' ideas (see website).
Rebecca O. Bagley from Forbes says, "Innovative companies ... understand innovation never happens in a vacuum ... are not afraid to break with the norm and push past conventional wisdom that causes people to think in a box."
Crowdfunding backers will receiving exciting rewards as perks, including Bideas.com's intriguing "Naked Entrepreneur Pack."