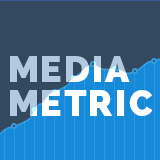 Mediametric has created an all-encompassing media analytics tool.
(PRWEB) July 21, 2014
With the beta launch of Mediametric (http://www.mediametric.com), journalists, media analysts, PR specialists, media planners, advertisers, and editors will have a new sophisticated tool which will allow them to compare journalists, news outlets, and other media in order to measure influence, virality, quality and exclusiveness of published content.
Launched in July 2014 by a team of data scientists and engineers, Mediametric has a database of over 10,000 media outlets, over 50,000 active authors, and more than 100,000 new articles every day which are all trackable via Mediametric's sophisticated algorithms.
The Mediametric software includes the ability to track three different indexes for content. The social index tracks the social reach of an article, to see how many likes, shares, and tweets it has received on social media. The citations index tracks the amount of links and indirect references which use the article as a source of citation. The comments index tracks the number of readers' comments on the original website. Based on these tracking indexes, Mediametric has created an all-encompassing analytics tool which will be a valuable asset to its customers.
Based on the results found via the tracking indexes, Mediametric builds ratings for journalists, media outlets and articles in order to determine the quality and outreach of online content. The tracking software also allows the user to build ratings based on certain topics (i.e technology, science), which allows users to perform comparison to closest competitors.
About Mediametric
Mediametric is a tech start-up based in Moscow, Russia, launched in July 2014 by a team of data scientists and engineers with a huge experience in content aggregation and media monitoring. It tracks all articles, published on the web by US and international media outlets (more than 10 000 websites) and gathers their stats (shares, comments and citations). Effective tool at mediametric.com allows to compose custom ratings of articles, authors and media outlets based on these stats within different topics and timeframes.
http://www.mediametric.com
Contact Mediametric:
info(at)mediametric(dot)com