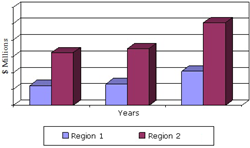 Global Market for Sol-Gel Products to Reach 2.5 Billion by 2019
Wellesley, Mass., (PRWEB) July 09, 2014
BCC Research (http://www.bccresearch.com) reveals in its new report, SOL-GEL PROCESSING OF CERAMICS AND GLASS, the global market for sol-gel products was valued at $1.6 billion in 2013. This is estimated to grow to $1.7 billion in 2014 and $2.5 billion by 2019, registering a compound annual growth rate (CAGR) of 7.8% in the next five years.
The sol-gel technique enables the processing of glasses and ceramics at low temperature in various desirable shapes such as monoliths, films, fibers or nano-sized powders. One of the most attractive features of the sol-gel process is that it can produce compositions that cannot be created with conventional methods. Another benefit is that the mixing level of the solution is retained in the final product, often on the molecular scale.
The U.S. market is expected to exceed $656 million in 2014 and $1.05 billion by 2019, with a CAGR of 9.9%. The fastest growth is expected to be in electronic applications, followed by biomedical and optical applications with CAGRs of 14.9%, 11.3%, and 10.2% respectively.
"Applications of sol-gel technology and commercialization of products have been growing in recent years, due in part to improvements in processing and economics," says BCC Research analyst, Dr. Thomas Abraham. "It makes it possible to combine and distribute organic molecules within inorganic oxide networks to form organic/inorganic hybrids. Such combinations form the basis for countless novel materials."
SOL-GEL PROCESSING OF CERAMICS AND GLASS gives a comprehensive analysis of U.S. and global markets for sol-gel-derived products, along with CAGRs from 2013 through 2019. It provides a detailed technology review for sol-gel-derived products, including processing methods, properties and applications. Market analysis is provided for each application segment for the U.S. and the world.
Editors and reporters who wish to speak with the analyst should contact Steven Cumming at steven.cumming(at)bccresearch(dot)com.
About BCC Research
BCC Research publishes market research reports that make organizations worldwide more profitable with intelligence that drives smart business decisions. These reports cover today's major industrial and technology sectors, including emerging markets. For more than 40 years, we have helped customers identify new market opportunities with accurate and reliable data and insight, including market sizing, forecasting, industry overviews, and identification of significant trends and key competitors. We partner with analysts who are experts in specific areas of industry and technology, providing unbiased measurements and assessments of global markets. Our clients include the top companies in industries around the world as well as universities, business schools, start-ups, consulting firms and investment companies. BCC Research is a unit of Eli Research LLC. Visit our website at http://www.bccresearch.com. Contact us: (+1) 781-489-7301 (U.S. Eastern Time), or email information(at)bccresearch(dot)com.
Data and analysis extracted from this press release must be accompanied by a statement identifying BCC Research LLC, 49-2 Walnut Park, Wellesley, MA 02481, Telephone: (+1) 781-489-7301; Email: editor(at)bccresearch(dot)com as the source and publisher. Thank you.