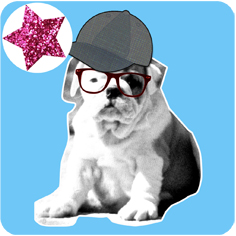 Some storybook apps simply stand out from other storybook apps. Topbestappsforkids
(PRWEB) July 24, 2014
Monster Moogle, an interactive iPad app designed for children and parents, is proud to announce that it has won a Silver MomsChoiceAward for 'the best in family media, products, and services.'
Monster Moogle Link: https://itunes.apple.com/us/app/monster-moogle/id731868551?mt=8 Momschoiceawards link: http://store.momschoiceawards.com/index.php?entry_id=3215
The Monster Moogle Maker is also available for free download, on the iTunes store.
Monster Moogle Maker Link: https://itunes.apple.com/ca/app/monster-moogle-maker/id869248424?mt=8
"With Monster Moogle, children are able to read a book and then write, and illustrate, short stories to share with loved ones. We have created a community of young artists who are able to express themselves in an interactive and educational manner," says Danielle Orkin.
There are 4 distinct sections to the Monster Moogle app: story mode, interactive story mode, characters and a collage maker. Each section in the app allows children to immerse themselves into a plot ultimately based on their own imagination. The two story modes follow the adventures of a hip bulldog puppy named Butch, who guides the reader into the depths of basements and other spooky places. To still children's fear of monsters, Butch gives the brave and wise advice to "stand your ground, look them [the monsters] in the eye and tell them to leave you alone." Throughout the story, Butch takes readers on a thrilling journey where they will meet imaginative monster friends.
The interactive story mode allows the readers to engage with beautifully colorful and interactive illustrations which correspond with the narrative text of Butch. Kids will enjoy running into creatures such as 'Thelma and Louise', twin goat sisters who are on the run from the law.
The character section allows for children, and parents, to meet 62 imaginative characters from the book. Each character has a name, biography and soundtrack. There are layers of clever humor in this section that engage both the parents and children, whilst inspiring the children and teaching them new words.
The monster maker is the most creative aspect of the app, where readers can create their own monsters out of a multitude of different objects displayed on the app, to include household items, accessories, jewellery, and other random objects. As readers create monsters, they will realise that projections from the mind should not instill fear, but rather open up their creative minds to infinite possibilities. The monster maker is where the children can customise their own monsters, imaginative artworks, and creative stories.
For more detailed descriptions and reviews of this award-winning storybook app, visit the following links:
TopBestAppsForKids: http://topbestappsforkids.com/monster-moogle-app-review-12019/
iPadkids: http://ipadkids.com/monster-moogle-monsters-app/
iGameMom: http://igamemom.com/2014/05/19/creative-monster-app-for-boys/
Funeducationalapps: http://www.funeducationalapps.com/2014/07/monster-moogle-helping-children-overcome-their-fear-of-monsters-app-review.html
About Monster Moogle
Created by Danielle Orkin and developed by Fontera, a successful development team from South Africa, Monster Moogle is a storybook app for the iPad . Through this app, boys and girls have the ability to read, learn and create through engaging with a book and a collage maker. There are two different versions of this app including the full version titled Monster Moogle, available for download at $1.99 on the iTunes store, and the lite version titled Monster Moogle Maker, which is also available for free download, on the iTunes store.
Contact: For media inquiries, please contact Danielle Orkin at +27824123075, or via e-mail at dani(at)monstermoogle(dot)com