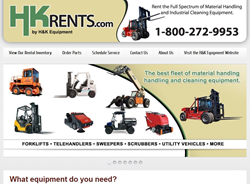 The nice part about HKRents.com is you don't even need to know what you need; you just have to know you need something.
Pittsburgh, PA (PRWEB) July 14, 2014
H&K Equipment of Pittsburgh announced today the launch of HKRents.com, a web portal designed to simplify material handling and industrial cleaning equipment rentals.
The new page, which opened today at http://www.hkrents.com, is an initiative attached to H&K Equipment's main website that is intended to facilitate rental operations, said company Vice President Pete Cicero. It consolidates H&K Equipment's rental information in one place, and is connected to the company's online vehicle showroom, where it lists its current rental inventory. For customers wishing to speak directly to a rental manager, a prominent contact form is available to request a custom quote or rental plan.
"The idea behind HKRents.com was to make everything with rentals simple," Cicero explained. "The web address is easy to remember, our rental inventory is one click away for anyone who wants to see our stock, or they can just reach out to us and we will help them find everything they need."
H&K Equipment provides a wide range of material handling and industrial cleaning equipment for a spectrum of applications, all of which are represented in the rental fleet. Lift trucks and forklifts are available in capacities ranging from 1,000 to 120,000 pounds from brands like Taylor Machine Works, Big Joe, Nissan-UniCarriers, Komatsu, Pettibone, and JLG. Specialized material handling vehicles include personnel carriers from Cushman, railcar movers from Rail King, and Kalmar-Ottawa terminal tractors. Industrial sweepers and scrubbers from brands like Factory Cat and PowerBoss can also be rented through the site.
The diversity of H&K Equipment's product lines, Operations Manager Patrick Koch noted, is what drove the design of the HKRents.com website. "We have everything here from narrow aisle forklifts used in warehouses to huge reach stackers used by ports, and the number of options can be dizzying," Koch said. "If you know what you're looking for, then our entire inventory is still online and is easy to search, but the nice part about HKRents is you don't even need to know what you need; you just have to know you need something."
Koch added that HKRents.com is designed to handle specialized requests and to help establish rental plans for irregular or unusual applications. "Sometimes, people need equipment that isn't easy to locate, or it's a machine that virtually no one keeps in inventory. That's fine. We either already have it, or we can use our industry contacts to find it for you."
Plans offered through the website include daily, weekly, monthly, yearly or repeat rental options. "We work with a lot of different industries," Cicero said. "They all have different requirements for their equipment. An oil and gas company needs a different rental plan from a mom and pop beer distributor. We make it a point to try and accommodate everyone."
"We offer the widest range of services and options that we can," Koch added. "We want to balance that by having a name that's easier to remember by having a page that's easier to navigate and by having experts on hand that are easier to work with. We want HKRents.com to be the first thing people think of when they need to rent equipment."
Customers visiting HKRents.com who would like immediate assistance can contact H&K Equipment directly by calling 1-800-272-9953.
About H&K Equipment:
H&K Equipment is a leading full-service provider of lift trucks, container handlers, yard trucks, railcar movers, personnel carriers, and industrial cleaning equipment. In addition to sales and rentals, H&K Equipment offers quick-response field and road service, maintains an extensive parts inventory, and provides onsite operator and safety training. Founded just outside of downtown Pittsburgh in 1983, H&K Equipment now leads a family of subsidiary companies that employ over 200 people in eight facilities across Pennsylvania, Ohio, and Maryland.