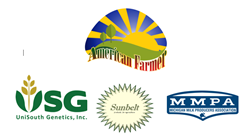 Jupiter, FL (PRWEB) July 11, 2014
American Farmer is proud to announce their latest episode airing on RFD-TV, next Tuesday, July 15, 2014, at 8:30 am ET.
In this episode, American Farmer explores Sunbelt's line of proprietary products, which are designed and formulated for use on a wide range of agricultural crops. Audiences will learn how these products help the crop realize its maximum genetic yield potential in the environment in which it is grown.
The show also features UniSouth Genetics, a non-profit co-op seed company, which provides a variety of wheat and soybeans to dealers and farmers over a 15-state region in the mid-Atlantic and Southern State areas.
Additionally, American Farmer goes behind-the-scenes at Michigan Milk Producers Association, to educate audiences on some of the latest breakthroughs and sustainable initiatives taking place in the dairy industry.
"It's important to stay informed on the latest innovations and advancements to hit the Ag industry, said Charlie Cowan, producer for American Farmer. "This episode is jam-packed with important educational information
About American Farmer:
American Farmer is a breakthrough program on a mission to showcase the latest advancements in agriculture and farming. From seed to harvest, livestock and more, our producers have traveled the country covering the people, places and issues impacting all areas of farm country.
American Farmer airs Tuesdays at 8:30am ET on RFD-TV as well as Tuesdays at 12:30pm and Saturdays at 1:30pm ET on FamilyNet.
For more information visit: http://www.AmericanFarmerTV.com or call Charlie Cowan at: (866) 496-4065 x 875 or via email at: Charlie(at)AmericanFarmerTV(dot)com.