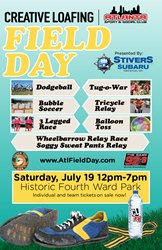 Atlanta, GA (PRWEB) July 10, 2014
Atlanta Sport and Social Club (ASSC) today announces the return of Atlanta Field Day to the Historic Fourth Ward Park on July 19. In partnership with Creative Loafing and sponsored by Stivers Subaru of Decatur, Shock Top Brewing Co. and 92.9 The Game, the 2nd Annual Field Day will offer attendees ages 18 & over an all-day event comprised of a series of fun and outlandish competitions.
Up to 50 teams of 10 will compete in a variety of games and contests in hopes of winning the King of the Field title. Competitions include: Bubble Soccer, Dodgeball, Tug-O-War, and more!
Taking over Historic Fourth Ward Park, Field Day will also provide a full day of entertainment for participants and spectators alike. With the addition of local food trucks, live music, and the Shock Top two-story build-a-bar, it's going to be the event of the summer.
Full team and individual signups are still available. All individual signups are guaranteed to be placed onto a team for the event, and can be placed with a friend upon request.
Event Details
Where: Historic Fourth Ward Park, 681 North Avenue, NE, Atlanta, GA 30308
When: July 19, 2014, 12:00pm-7:00pm
Who: Adults (18 & over)
How: To register or learn more about Field Day, visit http://www.atlfieldday.com
###
About Atlanta Sport and Social Club
Atlanta Sport and Social Club organizes adult sports Leagues and social events in the City. It is Atlanta's premier organization for active adults who love to play sports and have a great time doing it. Whether you're getting back into the game, trying it for the first time, or just looking to meet new people, ASSC sports leagues and events are the solution for you. Like Field Day on Facebook: http://www.facebook.com/AtlFieldDay. Like ASSC on Facebook: http://www.facebook.com/AtlantaSportAndSocialClub Follow us on Twitter: @AtlantaSSC Visit us on our website: http://www.PlayInTheATL.com