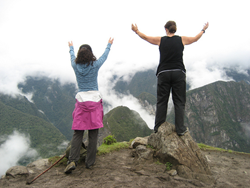 (PRWEB UK) 10 July 2014
Combadi, a niche experience travel website, is offering a series of spiritual holidays starting with Greece, Mexico, Peru and Turkey. These are not typical country tours that bus you around the main sights but deep cultural and spiritual journeys of discovery. The tours don't just introduce places and names; they give travelers a better understanding of ancient and modern spirituality and history, as well as of humanity and themselves. The tours are led by writers, scholars, medicine men, yogis and Mayan master teachers.
In Turkey, writer, presenter, scholar and accomplished storyteller Phil Cousineau leads travelers on a spiritual journey of the past and present. He'll introduce the modern sacred sites and the ancient civilizations and cultures that flourished in Turkey.
In Peru, Puma Quispe Singona, Andean medicine man, healer and wisdom keeper will guide travelers into the heart of Pachamama, to celebrate the transformative energy of the spring equinox in the sacred valley of the Incas. This sacred journey highlights the sacred Incas triumvirate – the Puma, Serpent, and Condor, as well as the many local communities which trace their roots back to the Inca civilization.
In Mexico, Maya master teacher Miguel Angel Vergara Calleros' sacred journey takes travelers to sacred Toltec archeological sites near Mexico City, and to the sacred sites of the Maya, in the Yucatan. There, Miguel will introduce sacred practices, meditation and mystical ceremonies that can unlock one's inner potential.
In Greece, expert Sattva Yoga instructor Ali Valdez combines yoga, creativity and mythology in a spiritual holiday. Juxtaposing ancient Greece with all that the present has to offer, she introduces yogis to an endless flow of inspiration that originates from the magnificence of Athens, Delphi and Crete.
Combadi's philosophy is that travelers need to come back different from their holidays - we feel so strongly about this, that we've made it our motto. Combadi has been created with one simple mission in mind: to research and select the most intriguing and transformative travel experiences. Our vision is to motivate travelers to discover their life's passion, learn something new—to simply have the time of their life. That's it: an honest approach to help you Come Back Different from your next holiday.