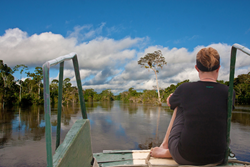 We have seen growing numbers of single travelers looking for safe, escorted travel to the world's wildlife-rich regions.
Helena, AL (PRWEB) July 09, 2014
Continuing to grow their following of solo travelers, International Expeditions is offering cabins with no single supplement fees on all 2015 departures of their three most popular small-ship cruise programs — Amazon Riverboat & Lodge tour, Amazon Voyage and Galapagos Voyage.
"We have seen growing numbers of single travelers looking for safe, escorted travel to the world's wildlife-rich regions, and solo travelers make up 21 percent of all passengers in the Amazon and Galapagos," said IE President Van Perry. "IE has made every effort to make our journeys open and inclusive for all travelers, and that includes keeping single supplements as low as possible and waiving the fees on cabins throughout the year – not just at the last minute."
International Expeditions first began waiving single supplement fees on their most popular cruise programs in 2012.
Aboard IE's pioneering journey into the headwaters of the Amazon River, guests travel aboard the 31-guest La Estrella Amazonica, enjoying numerous wildlife sightings. Daily outings on this 10-day adventure take travelers deep into the Pacaya-Samiria National Reserve to spot diverse wildlife, hike into the rainforest, and even fish for piranha. During excursions into the narrow river tributaries, guests may spot more than 100 kinds of birds, pink and gray river dolphins, sloths, giant otters and nocturnal animals such as caimans and capybaras.
"I loved the excellent staff, small group size and no single supplement for this cruise," said Amazon expedition guest Justin Child of Valencia, Calif. "I often travel alone and that is a determining factor."
Amazon cruise passengers also spend time with Ribereños in remote river villages, handing out school supplies to children and meeting with a local shaman. Ensuring a high level of authenticity, IE varies the villages guests visit during their Amazon expedition.
IE's new seven-day Amazon Riverboat & Lodge option combines three nights on the river with time at Ceiba Tops, a luxury rainforest lodge, where excursions include a stop at Monkey Island Reserve and a guided tour of a canopy walkway.
On the 10-day Galapagos Islands cruise, International Expeditions' 32-guest yacht M/V Evolution navigates to captivating islands, where the small group size allows for easy access to the wildlife and far more personal attention than guests find aboard large cruise ships. Onboard, guests sail in comfort with spacious accommodations, fine cuisine and a host of amenities including an observation deck (perfect for whale watching) and canopied bar, plus complimentary snorkeling equipment, wetsuits and kayaks.
In addition to daily snorkeling and hiking, other highlights include a visit to the Charles Darwin Research Center, famous for its tortoise breeding programs; an exploration of Santiago Island, a haven for finches, doves and Galapagos hawks; and a sailing to iconic Kicker Rock.
Highly trained Galapagos naturalist guides enhance travelers' experiences by sharing their in-depth knowledge and bringing guests within inches of giant tortoises, blue-footed boobies, sea lions, penguins and other animals.
For more information or a brochure on IE's small-ship expedition cruises, please contact 800-633-4734 or visit http://www.IEtravel.com.
About International Expeditions
Celebrating 34 years of nature travel, International Expeditions specializes in small-group journeys to Earth's most exhilarating destinations. A pioneer of environmentally responsible travel, IE is committed to preserving natural habitats and improving the welfare of the people and communities it visits. International Expeditions has been named to Travel + Leisure's list of "World's Best" tour operators & safari outfitters seven times and to National Geographic ADVENTURE magazine's list of "Best Adventure Travel Companies on Earth."