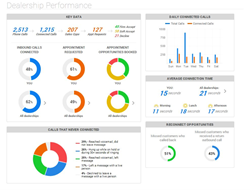 Dallas, TX (PRWEB) July 10, 2014
Car Wars is taking the way dealers Own the Phone to a new level. If dealers thought they were driving more appointments with the original platform, Car Wars 2.0 is going to rock their world, and their bottom line.
Car Wars' first-of-its-kind platform has served dealers well over the past couple of years, putting their salesmen in head-to-head battles with other dealerships to be better on the phone and drive more appointments. But as their results grew, Car Wars' desire to help their clients succeed grew even bigger. It was time to revisit their most beloved products and tailor them to meet every client's needs.
The developers over at Car Wars jumped leaps and bounds to make improvements that usually take years, down to just a matter of months. What they came up with was a friendlier interface, brand new features and an emphasis on mobile compatibility.
Less is more. The new dashboard takes what is most important to dealers and places it right in front of them. No more scrolling aimlessly looking for reports, administrative functions or other resources. They greet the dealer as soon as they log in. Most efficiently, Car Wars has added a dialer that allows the dealer to make calls to customers straight from the Car Wars platform. Now that's consolidation.
On that same note, dealer reports are now sleek and easily digestible. The reports feature all of the platform's core metrics to give dealerships a high level look at which team members handle calls like a pro, and which lead sources are driving quality phone calls.
Email alerts are now sent to the dealer automatically from the time of sign up with the platform. Not only that, but they can customize exactly what kind of alerts they want to receive, including frequency and types of calls that trigger alerts.
Car Wars 2.0 will not only provide dealers with more powerful information, but make that information easier to find. But the best part is, Car Wars is only going to get even smarter and more powerful in the near future. This launch represents only part of what they have in store for their users in 2014. It's going to be a big year.