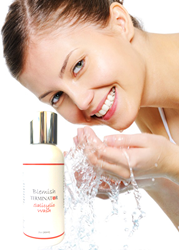 This cleanser unclogs pores, cleanses deeply and calms oily skin and acne. Other skin types benefit from the light exfolation of the wash, too.
St. Petersburg, FL (PRWEB) July 10, 2014
Perfect for oily skin or treating blemishes, the new Blemish Terminator® Salicyclic Wash makes its debut today.
"We have quite a few women tell us that they suffer from adult acne, or they have oily but aging skin," says Kathy Heshelow, founder of Sublime Beauty®. "We have been rolling out new products to offer solutions, and the Salicyclic Wash is the latest."
The wash unclogs pores, cleanses deeply yet calms oily skin. It includes Salicylic Acid at 2% (known to kill bacteria and treat oily skin) along with refreshing chamomile and aloe.
Normal and combination skin can benefit from a weekly use of the wash as well. It gently exfoliates to keep skin clear and fresh. Those who suffer from dull, lifeless skin could also benefit!
The new cleanser is available at both Amazon and the Sublime Beauty® webstore now.
ABOUT: Sublime Beauty® is a quality skincare company that focuses on products to "Age Younger." Products help to boost collagen, hydrate, relax wrinkles and improve skin. A niche includes healthy Skin Brushes. The company webstore offers free standard shipping and a VIP Club. Sign up for Secret Sales on the site. Products also available on Amazon.