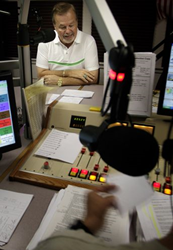 Tampa, FL (PRWEB) July 09, 2014
Chuck Whitaker, one of the nation's most recognized traffic reporter and the founder of the National News Team has been added to the news team at Genesis Radio, 820 AM WWBA in Tampa Florida. Whitaker will provide traffic reporting six times an hour in the morning and afternoon from 9 AM to 3 PM. Whitaker is a seasoned radio veteran of over forty years on the air.
Whitaker began his career in 1969 in Baltimore. He auditioned for the harrowing position of a helicopter reporter as a 19-year-old. He recalled, "I [didn't] want to look scared, but I've never been off the ground before and I'm going up in a copter without a door?" This act of bravery launched a successful talk radio career. In 1979 he became one of the founding members of the Metro Traffic Control, which started in Baltimore. In 1999 the company was bought and Whitaker moved from Baltimore to Hernando County, Florida in and to continue his reporting at WWJB-AM in Brooksville.
In 2000, he created the Traffic Team Network Inc. which provides up to the minute traffic reports for 43 radio stations in Florida and also affiliates in the Baltimore-Washington area. From his base at WWJB, Whitaker was able to access traffic information from all over the regions and deliver live reports.
Whitaker's vision for the National News Team is to continue expanding nationwide. The National News Team will encompass all the important channels of talk radio with traffic, breaking news, sports, weather and even has a technology correspondent. Peter "the Webdoc" Martin provides the latest in breaking technology news for businesses and consumers. His segment will give valuable ideas and advice to anyone who uses the web. He is known for his down-to-earth style and ability to put complex subjects into layman's terms.
"The challenge is that the internet and web technology are constantly changing, and keeping up with it requires someone who is focused on web issues," states Martin. "I hope to help viewers navigate the marvels and mysteries of the web to make their experiences productive and safe."
Whitaker is excited to be joining Genesis Radio, 820 AM WWBA, which currently broadcasts to over 500 AM and FM affiliate stations, globally on shortwave radio and XM satellite radio. Genesis will be adding more affiliates around Florida as the network expands.
About the National News Team
The National News and Traffic Team is privileged to provide key traffic and weather Information to 1.7 million listeners five times an hour via forty-two radio and three television stations throughout the entire State of Florida and  the D.C-Baltimore Capital Beltway. The National News and Traffic Team provides top satellite monitoring, on-ground camera feeds with a local and real-time laser-focus. Our reach is ubiquitous. As you'll see in our complete stations listing – The National News and Traffic Team reaches key consumers many major urban marketing campaigns tend to miss. The National News Team and Traffic Team provides national scope, presence and best-in-science Real-Time Traffic-News-Weather-Sports-Technology content service to over fifty markets and counting.