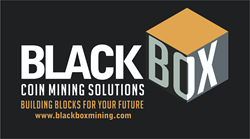 Bringing Bitcoins from Silicon Valley to Main Street
Lindenhurst, NY (PRWEB) July 15, 2014
Bringing Bitcoins from Silicon Valley to Main Street
BlackBox is proud to announce that, starting August 1st, bitcoin mining mining services will be available, for the first time in their history, to the public. BlackBox believes that bitcoin mining services present a tremendous opportunity to both take part in an historic advance and to generate success. Over the past several years computer hackers and tech wizards have harnessed this technology to make millions but until now, the tantalizing rewards of bitcoin mining have remained elusive for most. BlackBox Bitcoin Mining Solutions is determined to transform the elusive nature of bitcoins by allowing public access to mining services.
A Brief Background on Bitcoin
Described as a "technological tour de force" by Microsoft founder Bill Gates, bitcoins are a revolutionary advance-- the introduction to the digitalization of currency. Bitcoins provide their owners with financial freedom. Mathematical encryption encourages a free and secure flow of capital in a matter of milliseconds. Bitcoins can be traded for any currency or used for direct purchase. Bitcoins are not printed; they are found through mining. Since mining makes counterfeiting and inflation impossible, the value of bitcoins continue to skyrocket. BlackBox is not the first bitcoin mining company; however, they are the first company packaging mining to the public.
About BlackBox Bitcoins
BlackBox Bitcoin Mining is cofounded by inventors, Robert Pryer and Ryan Hazell. Their tech expertise is partnered by the business savvy knowledge of Jason Schwartz, an entrepreneur and e-commerce veteran who has led several start-ups to multi-million dollar success. This team plans to make BlackBox the industry leader in bitcoin mining.
BlackBox is designed from the ground up specifically for bitcoin mining. It is assembled in the United States, to maintain the highest standards of craftsmanship. Each product is guaranteed to undergo rigorous quality control tests to ensure peak efficiency. No other hardware matches BlackBox for speed or quality, and it is delivered at an astonishingly low price. BlackBox's current success is largely attributed to the superior technology of their Turnkey management service.
As part of the Turnkey management system, BlackBoxes operate from a data center in Bluffdale Utah . This location ensures security. Meters of reinforced concrete shield BlackBoxes from Mother Nature, while top-notch security measures protect data from hackers. The state of the art facility is powered by reusable energy sources and enables all machines to operate at optimum speeds.
How BlackBox Works
The set-up process for BlackBox is broken down into three easy to follow steps. "The only decision our customers really have to make is deciding exactly how much 'do-nothing' money they want to make," jokes entrepreneur Jason Schwartz. "Turnkey is designed to allow anyone, no matter how computer illiterate, to reap the rewards of bitcoin mining."
Investment packages vary greatly, but each offers an incredible opportunity for profitably. Case studies show most customers make back their initial investment within six months, and any coins after that are collected profit. Once a mining package is selected, the next step is to set up an account with Coinbase. The Coinbase account will serve as the "bitcoin wallet" for receiving payments. Bitcoin wallets and stored bitcoins are mathematically encrypted and keyed to their owners.
Jason continues, "No one will be able to steal your bitcoins or track your transactions. Bitcoin wallets provide absolute privacy and security, affording our customers the type of financial freedom most cannot even imagine. Although bitcoins have only been around for a few years, the market has recently matured tremendously. At the end of the day, the risks are few and the rewards are many. Because our profit depends entirely on our customers' success, we want our customers to succeed. Twenty years from now when bitcoins are as ubiquitous as dollars, do you want to regret not getting involved or do you want seize this moment? Make the decision to own your financial future, and help us transform the very nature of money."
Contact:
P: 631-956-8824
Jason Schwartz
BlackBox Coin Mining Solutions
266 Bangor Street Lindenhurst, NY 11757
http://www.blackboxmining.com