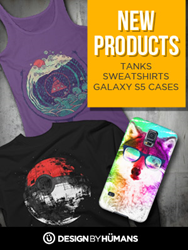 Chico, CA (PRWEB) July 09, 2014
Design By Humans (DBH) is continuing to push boundaries in the apparel industry to offer their customers and artists a wide variety of unique products using the most efficient, vibrant, and eco-friendly DTG printing practices. DBH has been hard at work preparing new graphic tanks and crewneck sweatshirts, striving to offer only the highest quality fabrics and inks. With the addition of graphic tanks, crewnecks and Galaxy S5 cases for men and women, DBH has created a unique opportunity for their customers to enjoy amazing DBH designs on more products that fit and illustrate their own unique lifestyle.
New Samsung Galaxy S5 cases at DBH give more people the opportunity to protect their phones with incredibly unique artwork from around the world. These new cases will be offered in slim "Barely There" cases that offer full wrap printing and add a strong layer of protection to any phone. Samsung Galaxy S5 phone cases at DBH will be available in a wide range of colors and give customers the choice of over 15k pieces of artwork.
Released just in time for their friends down under, new DBH crewneck sweatshirts are made with a durable fleece and an 80/20 cotton and poly blend that keeps them soft and shrink-resistant. DBH graphic crewnecks are available in unisex sizes S - 2XL. They will be offered in colors black, charcoal, navy and white, with additional colors to follow. New graphic crewnecks are crafted with quality construction and double stitched seams for a high quality, long lasting product. DBH graphic crewneck sweatshirts feature a timeless design that promises to keep customers from looking boxy.
New DBH graphic tank tops for men are a "contemporary" style that creates a comfortable, relaxed fit - customers will look good while they're feeling good. They are made with 100% ringspun cotton that is shrink-resistant. Men's graphic tanks will be available in sizes S-2XL and will be offered in colors grey, black, charcoal, navy, red, turquoise, and white.
New graphic tanks for women are considered a "Junior's Fit" line. They have a slender, form-fitting cut that flatters any woman's figure - best of all, they're soft to the touch. If customers prefer their tank tops a little looser, DBH recommends ordering one size larger. Women's graphic tank tops will be available in sizes S - XL and in colors light heather grey, dark grey, envy green, purple, red, turquoise, and white.
Similar to classic Design By Humans t-shirts, new graphic crewnecks and graphic tank tops feature an upgraded print area, allowing a larger design to be printed onto the product. The artwork printed onto DBH unisex crewnecks and graphic tanks is larger than any of their competitors and is exceptionally vibrant and long lasting. All DBH graphics tanks and crewneck sweatshirts have been garment-dyed and washed for premium softness and minimal shrinkage. These tank tops and graphic crews will also be available in over 15k unique designs created by hundreds of international collective artists.
Graphic crewneck sweatshirts and tank tops will continue to uphold Design By Humans' commitment to the environment. These new sweatshirts and tanks are printed using water-based, vibrant inks that are long-lasting and eco-friendly.
These new products have also added a new functionality for artists to display their designs. DBH artists now have the ability to create landscape and horizontal art prints for their customers. Artists will also have the ability to upload horizontal artwork to pre-existing and new products.
NEW graphic tank tops, crewneck sweatshirts, and Samsung Galaxy S5 cases that illustrate your lifestyle, created by amazing artists from around the globe, printed on whatever color you'd like. It doesn't get much better than that.
About Design By Humans
Design By Humans was started in 2007 with the simple vision of bringing artists from around the globe together to give them a platform to produce wearable art that tells a story, strengthens humanity and inspires life through creativity and design. The DBH Collective initiative is inspiring amazing artists and giving them a unique foundation to share artwork through a personal online storefront.
###
If you'd like more information about this topic, please call +855 333 9836 x 302 or email press(at)designbyhumans(dot)com.