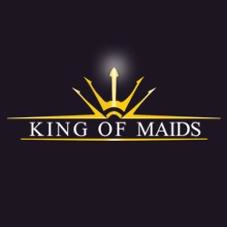 Our interest has always been to make our customers feel like royalty when they return to a beautifully cleaned home.
Austin, TX (PRWEB) July 10, 2014
Professional cleaning service King of Maids has been a recognizable name for Chicago locals due to impeccable service and affordable pricing. The company's unwavering resolve to provide complete customer satisfaction has enabled progressive growth over the years, with the ability to extend their service area finally becoming possible. Eager to bring clean and organized homes to the south, King of Maids has recently established home offices in several major cities throughout Texas.
In addition to their original location in Illinois, homeowners seeking a respectable and efficient company to assist with cleaning their house in the Dallas, San Antonio, Austin, or Houston areas can rely on King of Maids. By establishing locations that can offer consistent quality and detailed cleaning across one of the country's largest states, employees hope to introduce an even greater number of people to the appreciation and fulfillment that accompanies a properly cleaned household. Individuals seeking the experience of a full-scale regular cleaning, deep cleaning, or move-in/out cleaning will have the opportunity to benefit from the industry's most reliable organization by contacting one of their four new offices.
While relying on newly outfitted locations might seem like a risky endeavor, the King of Maids staffing department selects only the most experienced and trustworthy people from the surrounding area to join their team. Clients can rest easy knowing that their home is under the watchful care of an employee who has undergone several mandatory training procedures to develop absolute respect and care for you and your property. King of Maids hopes to instill confidence and fulfillment in the greater Texas area, developing both positive relationships with local customers and reinforcing their positive business image within a new state.
"Our interest has always been to make our customers feel like royalty when they return to a beautifully cleaned home," says Filip Boksa of King of Maids. "It is our hope that we may be able to bring the same satisfaction we have provided customers in Chicago to many of the major cities in Texas."
Interested families should note that King of Maids has also brought their 110% Money-Back Guarantee with them from Illinois. Customers that find their service to be unsatisfactory for any reason are entitled to a re-cleaning within 24 hours, with a full refund if the second cleaning fails to meet expectations. The housecleaning industry is built on the quality of a company's service, and King of Maids is prepared to bring the best procedures, prices, and promises to the Lone Star State.