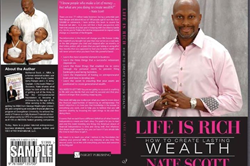 Author and entrepreneur GJ Reynolds said, "Nate understands the importance of surrounding yourself with the right people and is a key factor to having success. Nate lives this and teaches it as well."
Jacksonville, FL (PRWEB) July 10, 2014
Neil Haley, The Total Tutor host of the Simply G Radio show, interviewed Nate Scott to find out why he became an entrepreneur, learn about his background, hear the story of how he made his first million, and understand why he wrote the book "Life Is Rich".
Scott, who is a financial engineer, business strategist, corporate leader, and sales driver, has 20 years of private sector and military leadership success under his belt. According to his resume, his value is his ability to contribute to and enhance the brain trust directing the business by structuring an organization to position it for growth, aligning the teams so they execute the strategy, or cultivating symbiotic, mutually beneficial relationships internally and externally to the business. He is also a U.S. Army veteran, Captain and Ranger.
In the interview, Scott explained that he was a Desert Storm veteran who wanted to be an entrepreneur. Scott said he initially turned down academic scholarships to enlist in the US Army. Following Desert Storm, he attended West Point. After graduation, he was introduced to personal growth development and entrepreneurship. What he learned going to workshops, reading books, attending seminars, and being around successful people helped him grow his professional career and eventually helped him earn his first million dollars.
"Successful people are always in pursuit of excellence," said Scott, who mentioned that keys to finding success include having a great coach and securing a strong education. "You are a direct reflection of the books you read and the people with whom you surround yourself. No great player is ever successful without a great coach. People need to remember that."
When it comes to motivation, Scott explained what drives him every day. "I am always about giving value and servicing people. I am a personal CFO. This is why I wrote the book Life is Rich: How to Create Lasting Wealth."
Finally, Scott shared how he made his first million. According to Scott, he was able to structure a deal to acquire high-end proprieties. He then found another forty unit complex to purchase. It was in Cumberland, Maryland. He ran the numbers on paper. He did not have the money to buy it outright, so he negotiated with the seller until he could buy the property. Within 5 years he became a documented millionaire by the age of 32.
Author and entrepreneur GJ Reynolds said, "Nate understands the importance of surrounding yourself with the right people and is a key factor to having success. Nate lives this and teaches it as well."
You can listen to this radio interview by going to http://simplyg.com/media/simplyg-radio/.